Worldwide Growth For Epoxy And Polyurethane Repair Manufacturer Resimac
Here in the UK, we have new contracting companies on board and already we are seeing new avenues of business opening for the use of Resimac materials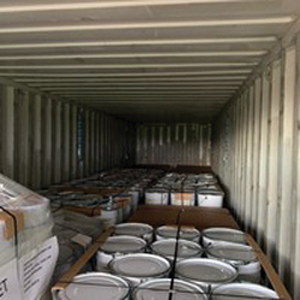 Alongside this, Resimac are conducting training and demonstration events to the UK oil and gas sectors in the coming months, which will in turn increase our UK network. Also, the offshore sectors are a keen focus to us and enquires are ongoing to develop these opportunities.

Europe has been a challenging environment for us to operate in during the last 18 months but we do see business improving significantly over the next 6 months and certainly in 2022. Global companies that operate in Europe are working with Resimac to increase their portfolio and this is very evident with a Global Seals manufacturer operating in Portugal. Other European countries such as Hungry and Greece are new to the Resimac brand and we look forward to growing these opportunities going forward.

In America, Resimac are in the process of setting up a full distribution network for all the Americas and we aim to be fully operational by July. Although we have a Resimac agent in America currently, this investment will enable us to grow far more quickly and offer our solutions with a more far-reaching approach.

Resimac have launched a North America specific website, www.resimacamericas.com. The website will cover all of the products available to our growing customer base across America.

In Africa, Resimac continues to develop distribution outlets and Nigeria and Morocco are the latest countries to supply Resimac materials to their regions. Countries such as Algeria and Egypt continue to grow exceptionally well during these current times. Equatorial New Guinee and Angola are new to the Resimac family and given time, these countries shall be a great distributor of Resimac materials.

The UAE is under development by Resimac, and we have a very promising outlook here and the level of opportunity for us is certainly huge. Some Resimac materials are currently under the Saudi Aramco testing to enable us to distribute direct to the many Saudi oil and gas and petrochemical companies.

In Asia, we have made great inroads into many countries and some of these, although in their infancy, are expected to be a great benefit to our business going forward. The latest addition to the east of this region is South Korea. Resimac have opened a distribution arm here and the focus to supply the Nuclear sector and other industries with Resimac materials.

Australia has opened a Resimac distribution platform to provide service to all areas of Australia and this opportunity continues to grow week on week. The outlook here has a great potential for Resimac through all their industry sectors.

China continues to import extremely large orders of Resimac materials, and this market shows no sign of slowing. As the global network resumes to a more normal environment, the Chinese market will continue to grow year on year.

Other countries such as Japan and Russia have just as many opportunities as the other countries that we currently operate in and we are looking to develop these further as we move forward.

To conclude; Resimac are in a prime position to expand our business platform exponentially and with all the support we have from a great team here in the UK, we can only see this as being a journey that we would welcome your business to join us on.