Industrial Marine Silencers MCPD Compliant SCR System For London Cancer Hospital
IMS were recently involved in the development of a bespoke SCR (Selective Catalytic Reduction) system for a cancer hospital in Central London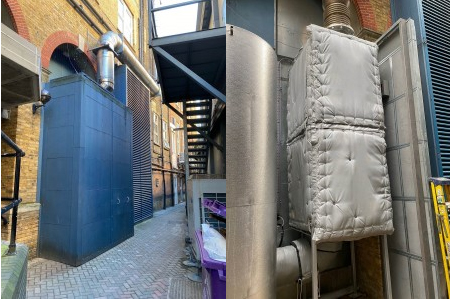 The SCR Reactor combined with Silencer had to be installed in an existing enclosure, external to the plant room.

The objective of the trial was to reduce the NOx emissions to below 190mg/Nm3@15%O2 to comply with the Medium Combustion Plant Directive (MCPD).

The system was supplied together with an AdBlue Dosing System with AdBlue Bulk and Buffer Tanks together with pumps and transfer pipework that delivered the AdBlue to the "Airless" Injectors located within the AdBlue Mixer Pipe prior to the SCR Reactor, eliminating the need for a compressor.

The SCR system came with an Electronic Control and Monitoring System that housed an ECU for controlling the AdBlue Injection rate by monitoring the engines Pre and Post NOx emissions as part of a "closed loop" system with On-Board Diagnostics (OBD).

The ECU has built in memory linked to a display module in the door of the control cabinet with a touch Screen that can be used to review all emission and engine parameters as well as any problems in Real-Time.

The data from the ECU can be downloaded and displayed in an excel format for reporting purposes.

This was one of four London Hospital generators that have recently been supplied with the IMS-eco SCR systems.

All SCR systems are made bespoke at our factory in Leicestershire UK, and installed by our own professional installation / Commissioning team.