Industrial and Marine Silencers Supplies WB Power 4 X 2200KVA Containers
Industrial & Marine Silencers have manufactured 4 x 2200kVA containers for Welland Power to house Perkins 4016-61TRG3 Engines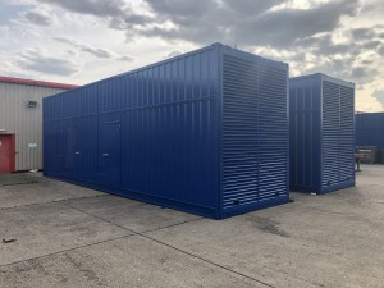 The containers painted in Welland Blue each house the biggest engine in the Perkins range – the 4016-61TRG3.

These huge engines are going to be used at a baseload rating to provide a standby facility for a key ore processing plant in the Caribbean.

Each container is 12m long, 4m high and almost 3m wide weighing 13 tons (27 tons when the diesel generator is installed inside along with the control system).

Engine Mode: Perkins 4016-61TRG3Fuel: Diesel Engine Configuration: 16 Cylinder Vee. Engine Speed: 1500RPM, Alternator Model: Stamford PI734, Power Rating: 2200kVA Prime

Charlie Farrow, MD of Welland Power commented "This is a huge project for Welland and IMS, it's the biggest collaboration so far between our two companies. These units are incredibly impressive now completed a true testament to the build quality of IMS products.

Combined with the Welland Power team building the generator, the customer will get years of service from these units and will no doubt be extremely happy with them and if there are any problems both IMS and Welland Power will be ready to assist and support these units. We look forwards to working with IMS in the future to deliver more high-quality projects to our customers around the world"