How Zoom And WhatsApp Helped Provide The Perfect Local Concrete Mix
The impact from Covid 19 is being felt around the world, forcing social distancing, and creating difficulties for external collaborations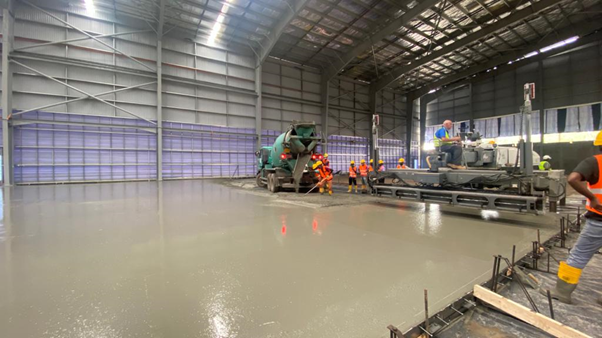 CoGri Asia Pacific found a modern way around this for crucial elements of the job they were undertaking in Sri Lanka.

CoGri Asia worked with the main contractor, Access Engineering, to construct an FM2 Steel Fibre Reinforced Concrete (SFRC) slab for their client, Camso Loadstar, a manufacturer and distributor of tyres, tracks, conversion track systems, and OEM undercarriages.

Most floors in Sri Lanka and surrounding countries are not built to the flat floor standards seen in many other parts of the world. This is usually due to concrete mix posing problems caused by lower cement strengths, grading of aggregates, and contamination of aggregates, typically by organic matter.

Andrew Tait, Regional Manager ASEAN at CoGri Asia Pacific Pte Ltd, explains how this was overcome. "We needed to develop a local concrete mix design in the batching plant laboratory, but social distancing & travel restrictions meant our two experts remained separated from each other and from the people in the laboratory making visits and collaborating at the facility impossible."

He continues "Our Project Manager, Wallace Wong, and Pete Male, CoGri's Specialist Concrete Consultant, made use of communications technology Zoom and WhatsApp to discuss and watch trial panels setting, until a reasonable 3.5/1/3.5 setting ratio mix was achieved. This local concrete mix was essential to help meet the FM2 specifications required by the clients for a flat and efficient warehouse floor."

Once the remaining two CoGri team members, based in the UK, had arrived and self-isolated for 4 weeks due to the pandemic, they then had to endure a 2-hour drive in 33o C heat to reach the batching plant. There, they found that inconsistent batching weights of materials and additives was causing problems in the full-scale batching trials.

However, once effectively remedied, the first successful panel pour achieved a FM2/FM1 tolerance, with the second panel pour achieving a full FM1 tolerance.

CoGri Asia provided the best floor possible, even in the difficult conditions dictated by Corona Virus restrictions. This was demonstrated throughout the process, from joint layout and design, concrete mix and construction methods, through to panel pour and post-construction advice, combined with a little help from communications technology!

To find out how to achieve flatter floors for your next project, visit https://bit.ly/CoGriGroup or email info@cogrigroup.com

About CoGri Group Ltd: The CoGri Group are an international consortium of warehouse and industrial flooring specialists. We provide independent floor testing services, concrete grinding, floor refurbishments, upgrades, and repairs throughout the world. Within the African, Asian and Middle East regions we are also recognized as one of the most experienced concrete flooring contractors available.