Fulton To Continue Showcasing Award Winning VSRT And Promote Aftercare Solutions
Heat transfer specialist Fulton will be using Foodex to showcase its range of fuel-fired and electric steam boiler solutions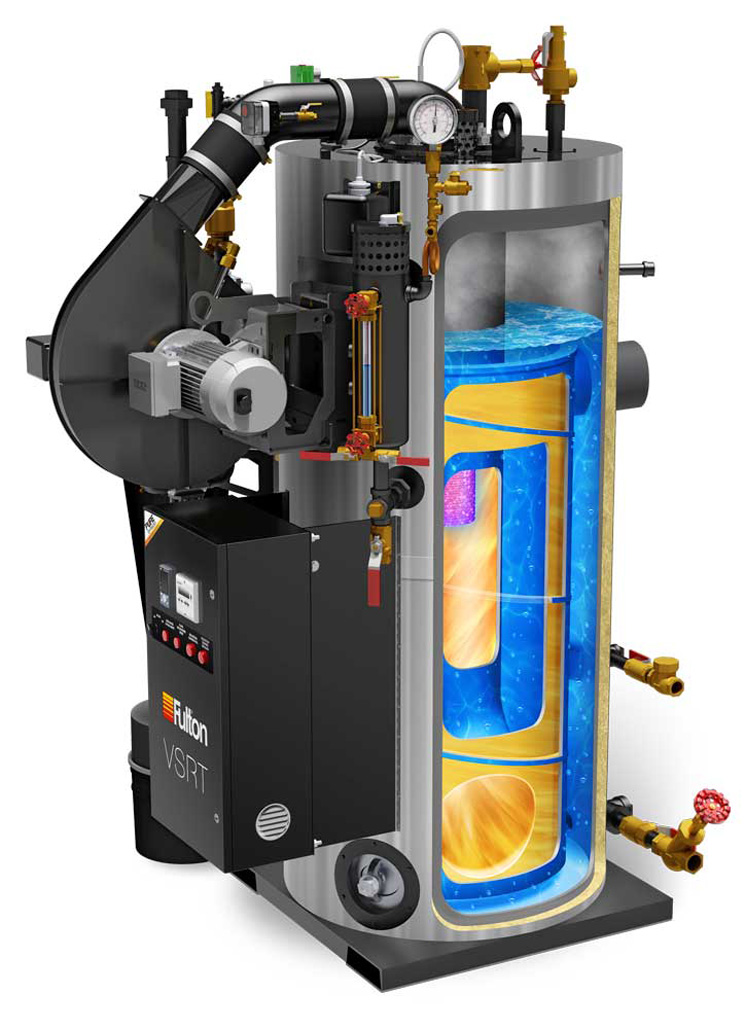 Fulton will also be launching its all-new boiler sequencing control system and promoting the many solutions on offer from its aftercare division.

Launched at Foodex in 2018, Fulton will continue to promote the many radical features and benefits of the multi-award-winning VSRT vertical steam boiler – including the VSRT-250 due for launch this year – with the stand featuring a cut-away demonstration model of the VSRT-30 and a typical example of a skid mounted solution for food and beverage processing facilities that features a VSRT-15.

Fulton will also be using its stand to launch the company's all-new boiler sequencing control system which, with many food processing facilities operating multiple steam boilers, can optimise installations to ensure energy efficient operation and improve boiler longevity. Using sequencing to provide redundancy and reliability, Fulton predicts that significant savings can be made by automating start-up and shut-down procedures, controlling and optimising main steam header pressure or temperature, ensuring steam supply is controlled precisely for the required process and by eliminating idle time at low-fire.

Beyond its product portfolio, the company will also be showcasing the many solutions on offer from its aftercare division, which can support Fulton's own installations and those from other boiler manufacturers.

Commenting for Fulton, aftercare and business development manager Jeff Byrne says: "Since launch, the VSRT has proved extremely popular, especially within the food processing sector. So, while we continue to push the VSRT and promote its low total cost of ownership, we must also promote the many aftercare solutions Fulton offers."

Fulton is renowned for its many gas-, oil- and electric-fired heat transfer solutions, but its service doesn't just stop after a boiler is installed and commissioned. A food processing facility depends on its heat transfer equipment to maintain a regular supply of steam and, in many cases, during every hour of every day. So, when a boiler needs start-up, aftermarket parts, repair/maintenance or your operators require training, it's essential that you use professionals that understand the often-complex capabilities of your processing equipment.

Using an analogy, Jeff explains that having invested in a new fleet of vehicles for its business, a company would be ill-advised to use unqualified mechanics or technicians to service them. "In the automotive industry, doing so would likely result in the manufacturer's warranty being invalidated." says Jeff. "But this is exactly what we're seeing at facilities where boilers operators are often given little, poor or no training and are therefore unqualified and certainly unprepared when a fault occurs, or regular maintenance is required. A poorly maintained and serviced boiler could result in failure, significant process downtime and potential revenue losses."

As well as offering boiler spares and repair service for all makes and types of heat transfer equipment, Fulton's aftercare portfolio also includes accredited boiler operator training to INDG436 and BG01-R2, technical boiler house risk assessments, boiler and water treatment service contracts, water treatment training to BG04 and EN12953, steam trap surveys, site mass balance assessments and system design, etc.

For further information on the VSRT, boiler sequencing system or Fulton's aftercare solutions, visit stand R269 at Foodex, or contact direct on details bellow.

Foodex, NEC Birmingham, 30th March – 1st April 2020.