Chemique Adhesives And SUDEX Middle East Announce Two Major Developments
SUDEX Middle East Adhesives Manufacturing, Chemique's distributor based in Dubai, have announced two major recent developments � a move to larger premises and appointment of a new Technical Salesman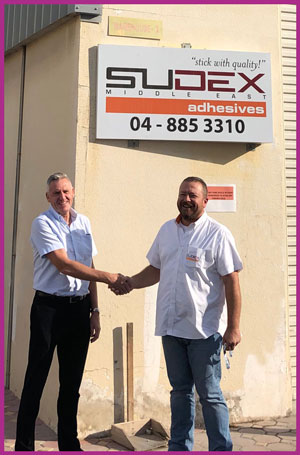 Aerospace / Architectural / Chemical / Construction / Engineering / TranspoHaving worked together for over 5 years, both the move and new appointment highlights the growth that SUDEX and Chemique have achieved in the Middle East. "These are exciting times for both companies" comments Clive Robson, International Sales Manager at Chemique Adhesives. "The move to larger premises enables SUDEX to have increased levels of stockholding, offering the best availability possible for growth in this market. Couple this with our new salesman and everything is in place to develop business opportunities for SUDEX and Chemique".

The new salesman joins SUDEX to concentrate solely on Chemique's product range, as well as providing a dedicated professional in the region. He has a wealth of experience having previously worked in furniture and joinery hardwear, paints and coatings, concrete and cement products and industrial chemicals.

Sales have grown steadily in the Middle East over the past 5 years with emphasis on ProAqua 1, a water based foam bonding adhesive, Polyped - an adhesive range for raised access flooring and Solfre - a range of one and two component polyurethane adhesives.

However, more recently, Chemique have highlighted the demand for adhesives to meet stringent fire resistance tests in construction assemblies such as insulated doorsets and shutter assemblies.

Solfre 3022 is a polyurethane adhesive that has been tested to BS476-20 : 1987 Part 20 and BS476-22 : 1987 Part 22. The adhesive was used in the assembly of a latched single acting, single leaf wooden doorset featuring a vision panel.

Clive Robson adds "Third Party Testing and Certification is essential when targeting the construction industry in the Middle East, and this latest test approval provides the perfect base to promote our Solfre 3022 polyurethane adhesive. Although the fire test was carried out on a doorset, Solfre 3022 can also be used for architectural panels, insulation panels, joinery and many other bonding applications of various substrates, including metal, plastic, wood and foam"