Strong Focus On Customer Service And Operations At AMETEK SMP With Series Of New Appointments
AMETEK Specialty Metal Products (SMP) is delighted to announce a series of key appointments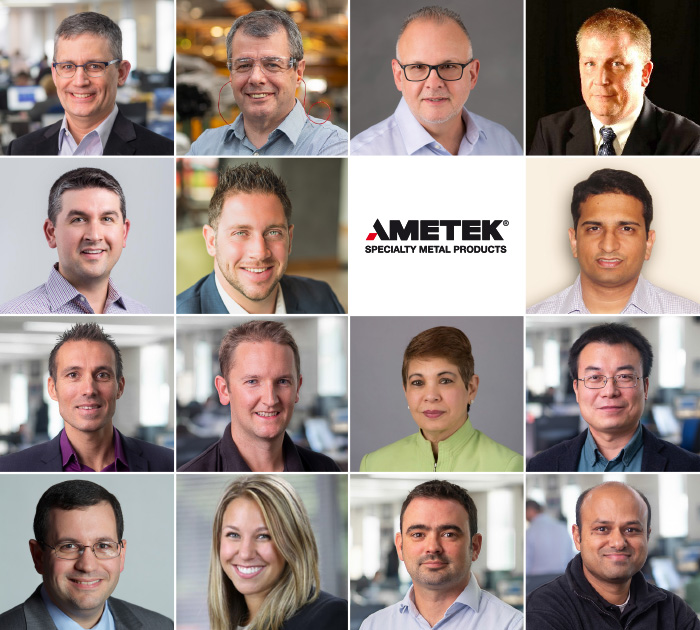 The Division includes Reading Alloys, Hamilton Precision Metals, Superior Tube, Fine Tubes, SMP Eighty Four and SMP Wallingford, all experts in their fields with a total of six manufacturing locations and a network of sales offices across the globe. As a world leader in the manufacture of high purity alloy powders and master alloys, precision metal tubes, strip and foil, SMP places a high premium on the recruitment and development of people who share its commitment to industry-leading customer service.

Matthew (Matt) Houston
Divisional Vice President, Operations | SMP

Joining SMP with a wealth of metals company experience, including the management of multiple facilities, Matt is responsible for all aspects of the Division's global operations performance - safety, quality and delivery - and for the execution of defined improvement initiatives. Based in Lancaster, PA, he will be the divisional mentor for the implementation of Lean-Six Sigma tools to drive continuous improvement at all SMP locations. An important member of the Senior Leadership Team, Matt also will help ensure the alignment of the goals and initiatives of Sales, Operations, and Finance.

Matt holds a Bachelor of Science degree in Metallurgical Engineering from University of Nevada Reno, as well as a Master of Business Administration degree from Indiana University of Pennsylvania. He spent over 11 years at industry-leading corporations managing multiple turnaround assignments, including in Russia. His more recent assignments were as Director of Engineering and Technology and Director Manufacturing Operations as well as Director of Global Business Transformation in the metal industry.

David Cawse
Operations Director | Fine Tubes

Reporting to Matt Houston is David Cawse, who was appointed as Operations Director at Fine Tubes. In line with an SMP-wide commitment to strengthening its operations function, David will focus his extensive leadership experience on enhancing Fine Tubes' strong reputation for quality and customer service.

Having started his career at Zarlink Semiconductor Plymouth in the United Kingdom as an Equipment Technician, he progressed to Principal Engineer, Manufacturing Manager, Customer Services Manager, Chief Operations Officer, and Company Director before joining Bombardier Transportation in Plymouth as Operations Director. In 2012, he took on the role of Head of Manufacturing UK and Denmark. David also has held the role of Chair of the Plymouth Manufacturing Group.

Jim Lampert
Plant Manager| SMP Wallingford

In his new role, Jim has overall responsibility for the management of all aspects of the SMP plant in Wallingford, CT, as part of the Division's Leadership Team.

Most recently, Jim worked as the Operations Manager, overseeing the plant production since 2013. He has a Bachelor of Science degree in Business Administration - Management and an MBA degree in Strategic Management from Sacred Heart University.

Casimir (Cas) Koshinski
Plant Manager | Hamilton Precision Metals

Cas oversees all operational activities at Hamilton's Lancaster, PA, facility ensuring worker safety, compliance with environmental regulations, and the continuous improvement of all operations through lean initiatives and individual employee development.

With an extensive background in the metals industry, Cas joins Hamilton from Leonhardt Manufacturing, a contractor of tubular metal products. He holds a Bachelor of Science degree in Metallurgical Engineering/Materials Science from Carnegie Mellon.

Ryan Cicciu
Regional Sales Manager, New England | SMP

Ryan will identify and develop new customers and product applications for the Division's tube, strip and powder products. Based out of Boston, he covers the New England region.

Ryan joins SMP with global sales and marketing experience in military, avionics, transportation, medical, industrial, telecommunications, and computing markets. He has a Bachelor of Science degree from Bryant University.

Andrew (Andy) Blankemeier
Regional Sales Manager | SMP

Andy will focus on the Division's powder, tube and strip products for medical and industrial applications. Based out of Minneapolis, he will cover the North Central Region.

Andy joins SMP with experience in developing medical sales opportunities with strategic accounts. He holds a Bachelor of Science degree in Biomedical Engineering from Wright State University and a Master of Science in Materials Science and Engineering degree from The Ohio State University.

Navil Gada
Director Financial Planning & Analysis | SMP

Based at the Division's Collegeville, PA, facility, Navil will provide vital support to the business decision-making process with financial consulting and strategic analysis to senior management. That includes the preparation of KPIs and other dashboard reporting; customer and product profitability analyses; the assessment of new commercial and capital expenditure opportunities; due diligence studies pertaining to acquisitions; and other projects requested by senior management.

Navil has a broad accounting and finance background gained from positions held at such companies as Johnson Matthey and Corning. He also is a Six Sigma Green Belt and holds an MBA degree in Finance & Marketing from the State University of New York at Buffalo as well as a Bachelor of Engineering (Electrical) degree.

Pierpaolo Pigliacelli
Regional Sales Manager, Western Europe | SMP

Based near Paris, Pierpaolo is responsible for sales and business development in France, Italy, Switzerland, Spain and Portugal, representing the SMP Division across the board. Fluent in Italian, French and English, with some Spanish, Pierpaolo joins SMP from Acal BFi where he worked as a Field Sales Engineer in its Metals division, focusing on niche applications, such as military, nuclear, medical, energy, chemical and aerospace.

Dan Riden
Continuous Improvement Manager | Fine Tubes

Dan's role is focused on improving shop floor manufacturing activities and product quality. He works on delivering reliable and permanent solutions that improve process control and product yields, while reducing costs. Having previously worked at Fine Tubes as a Product and Process Improvement Engineer, Dan moved to Babcock in Devonport where he led a Business Improvement work stream.

Gwynnyth Henderson
HR Manager | SMP Wallingford

Gwynn joins AMETEK SMP with a wealth of experience gained during a long and successful HR career. Her skills and expertise helped lead a number of businesses achieve excellent results, including Cabela's, Home Depot, Omni and Marriott Hotels.

Michael Zhu
Regional Sales Manager China | SMP

Working from the AMETEK Shanghai office, Michael is responsible for sales and business development across the SMP portfolio throughout China. Fluent in Mandarin and English, Michael's previous positions include Sales Manager at H.C. Starck and Sales Engineer at Hoganas China.

Michael Marucci
Vice President, Sales and Marketing, Powders

Michael is responsible for establishing the strategy, execution and implementation of all sales and marketing activities related to titanium master alloys, titanium powders, and water and gas atomized powders. Having held positions of increasing responsibility in R&D and Quality with GKN Hoeganaes, he rose to become Vice President, Commercial and Strategy at GKN Hoeganaes in New Jersey, leading its global powder business. Michael holds a Bachelor of Science degree in Materials Engineering and Master of Science degree in Engineering Management, both from Drexel University.

Caelin Middleman
HR Manager | SMP Eighty Four

In this new role, Caelin is responsible for adding new value to the business. In addition to executing all HR transactional processes, such as payroll, attendance management, HRIS management, performance management and new hire training, she will be an important member of the leadership team. She joins AMETEK SMP from Owens Corning, where she designed and implemented HR policies and procedures and hired 70+ employees for a plant start-up in Joplin, MO. Caelin graduated in 2015 from the University of Pittsburgh with a Juris Doctor and MBA degrees. Her background in law and business is complemented by a Bachelor of Arts degree in International Studies and Religious Studies.

Lee Johns
Financial Controller | Fine Tubes

Leading the financial reporting process - actual, forecast and budget - Lee is responsible for ensuring that standard costs accurately reflect operational performance and that controls and policies are adhered to in order to maximise cost control. He also will provide customer and product profitability analyses.

Lee has 18 years of experience in finance roles, including most recently as Financial Controller at UTC in Plymouth. He holds full ACCA membership and is a qualified AAT Technician.

Rahul Bhattacharya
Product and Applications Improvement Engineer | Fine Tubes

In this new role, Rahul is responsible for interfacing at an in-depth technical level both with customers and internally with the Operations, Planning, QA and Technical functions. He is primarily responsible for aerospace manufacturing activities and product quality, with a particular focus on applications for Airbus and Rolls-Royce.

Joining Fine Tubes from Special Metals in Hereford, Rahul previously held research positions at the University of Strathclyde and the University of Warwick and was a member of the Research and Development team at Tata Steel Limited. He holds a Bachelor of Science degree in Metallurgy, a Master of Technology degree in Metallurgical and Materials Engineering, and PhD degree in Metallurgical Science and Engineering.