Bunting Return To ArabPlast Exhibition With Magnetic Separators And Metal Detectors
After a successful exhibition in 2017, Bunting Magnetics is, once again, exhibiting at the ArabPlast international exhibition (5-8 January 2019, Dubai World Trade Centre, Dubai, UAE)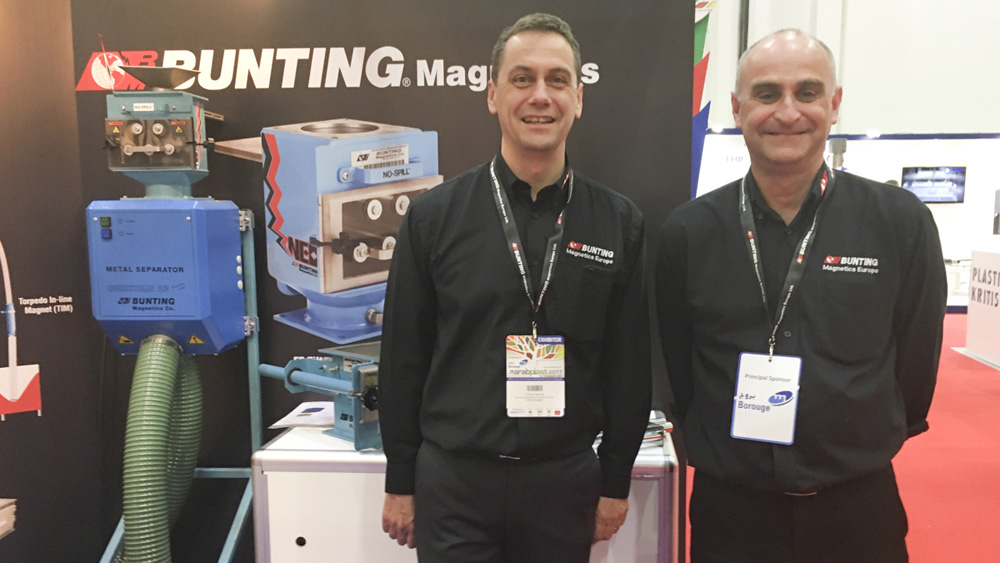 Simon Ayling and Dave Hills at ArabPlast 2017On stand 5D125, Bunting is exhibiting magnetic separators and metal detectors specifically designed for use in the plastics industry.

"Exhibiting in 2017 was a great success," explained Dave Hills, Bunting's Head of Sales. "We had the opportunity to speak with many new potential customers. We even secured an order for a FF Drawer Filter Magnet and quickTRON Metal Detector on the stand at the show!"

ArabPlast is the largest trade expo for plastics, petrochemicals and rubber industry in the MENA region. The 2017 exhibition had 906 exhibitors from 41 countries and 27,268 visitors from 119 countries.

On the stand at ArabPlast, Bunting will be displaying a wide range of equipment used to remove metal contamination from the plastics manufacturing process including:

* Fully functioning quickTRON 03R Metal Detector with an FF Drawer Filter Magnet mounted on top
* Various sizes of FF Drawer Filter Magnets
* Manual self clean Drawer Filter
* Pneumatic In-Line Magnet (PIM)
* Magnetic Tubes and Grate Magnets
* Magnetic Liquid Filter

At ArabPlast, the Bunting team intends to help local plastics companies solve any metal contamination problems. The team is able to draw upon their vast experience in Europe and the USA.