Fulton VSRT Promises Highest Efficiencies And Ultra Low Nox Emissions
The VSRT from Fulton - the company's all-new vertical spiral-rib tubeless steam boiler - already boasts ultra-low NOx emissions and high efficiencies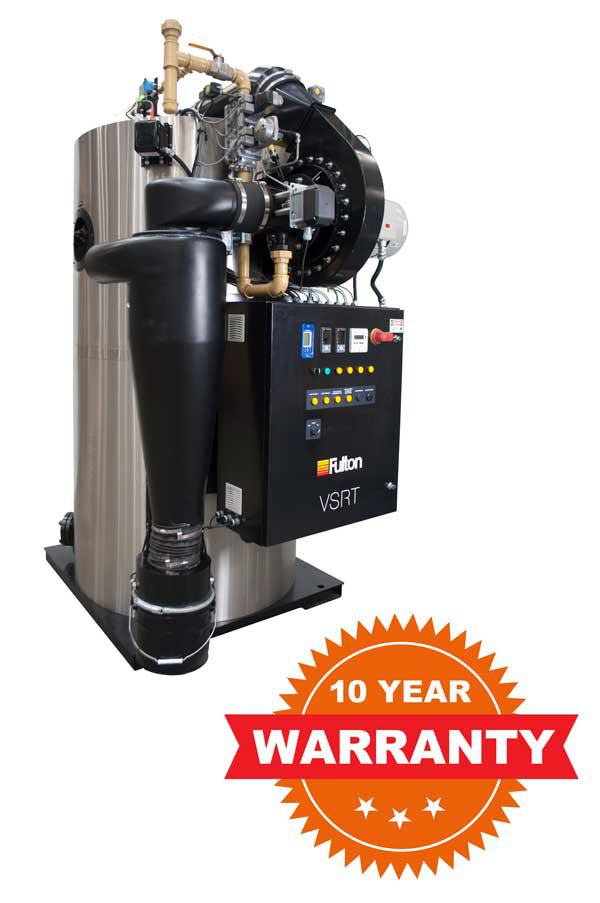 Plus it now comes with a 10-year unparalleled warranty on the pressure vessel, double that of the industry standard.

Commenting for Fulton, sales and marketing manager Leigh Bryan says: "The unique spiral-rib design of the VSRT creates a longer-lasting boiler that we believe will beat the competition in every category of durability so, to put our money where our mouth is, we have decided to include a 10-year warranty on the pressure vessel as standard!"

The patented spiral-rib heat exchanger design - a result of the company's 'Pure Technology' approach to systems engineering - not only allows Fulton to improve boiler efficiency but, with virtually zero thermal stress and a thick-walled construction featuring vertical tubeless design architecture, the VSRT is one of the most durable steam boilers available.

The VSRT is available with outputs from 160 to 960 kg/h and boasts ultra-low NOx emissions of less than 20ppm that are achieved thanks to its purposely-designed combustion technology. This has helped Fulton to achieve up to 10:1 turndown capabilities, an industry-leading performance of >82.5% gross thermal efficiency and 99.75% steam quality at 8 bar. It also complies with the City of London Air Quality Strategy and anticipated MCPD regulations, is constructed to BS EN 12953 and CE marked to PED.

Having recently rationalised its product range to ensure its solutions meet the requirements of the MCPD, Fulton announced that production of its horizontal reverse-flame boilers has ceased. However, the company can confirm that a much larger VSRT model with a steam output of approximately 4,000 kg/h - similar to those of its legacy RB horizontal steam boilers - is planned for early 2019 and will benefit from the same 10-year warranty on the pressure vessel.