Chemique Adhesives Launches New Desiccator
The Chemique Adhesives desiccator, also known as a dehydrator or dehumidifier is a self-contained moisture control device that uses desiccant to protect an enclosure from moisture contamination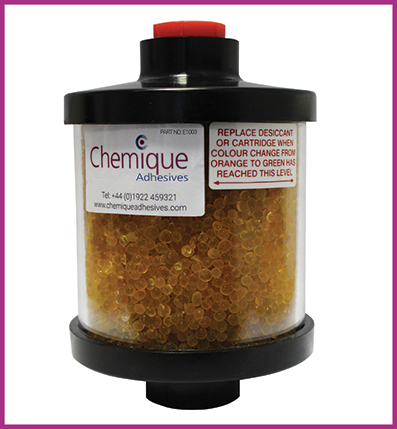 Many fluids are hygroscopic, (adsorbing moisture from the air) and once exposed to normal atmospheric humidity, such materials will adsorb water vapour.

Developed to protect storage drums, tanks and intermediate bulk containers (IBC's) during use and operation, Chemique's E1003 desiccator is the ideal solution to protect adhesives from moisture contamination.

The desiccator provides protection against:

• Fluid Contamination
• High Humidity
• Viscosity Changes
• Water Condensation

For further information, please visit our website.