PCL Pumped To Launch New Forecourt Inflation Range At Uniti Expo
Pneumatic Components Ltd (PCL), the worldwide leader in the design, manufacture and distribution of pneumatic and tyre inflation systems, is exhibiting at UNITI Expo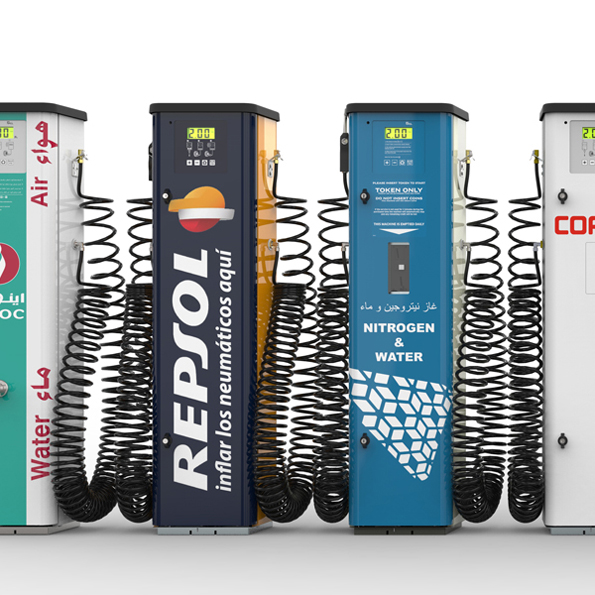 UNITI Expo is the leading trade fair for the retail petroleum sector in Europe and is held in Stuttgart from 15th – 17th May 2018.

The Expo will be the global launchpad for PCL's new forecourt inflation range for air and nitrogen, where it will showcase its Air Tower Unit, Air Podium, Nitrogen Tower, Nitrogen Podium, and Retail Diesel Emission Fluid Dispenser.

PCL's Air Tower Unit features options for stainless steel or painted, compressor, retractable reels or coiled hose, water and screen wash. The latest version offers the choice of coin, token, or a brand new cashless payment option, reducing security risks and the cost of cash handling.

The Air Podium Unit is the simplest, integrated, low cost, painted forecourt unit for air and water with coiled hose and cashless payment option.

Nitrogen tyre inflation is no longer just the domain of aircraft and Formula One vehicles. With nitrogen, tyres remain at their optimum level for longer because it permeates the tyre lining at a much slower rate than air, leading to numerous benefits for the driver including better fuel economy, extended tyre life and increased safety.

PCL's innovative range of nitrogen units enables customers to refill the nitrogen in their tyres on the forecourt and provides an additional revenue stream for the petrol station owner.

The Nitrogen Tower delivers fast, accurate and safe nitrogen inflation, and features a range of options including coin, cashless and token payment.
The Nitrogen Podium-Style Unit is the slimline version of the Nitrogen Tower and comes with a basic range of options presenting a value alternative for forecourt operators looking for a housed nitrogen product.

PCL's new Retail Diesel Emission Fluid dispenser for AdBlue® combines PCL's gas and forecourt knowledge with sister company TECALEMIT's fluid expertise and can be used in combination with inflation units for use all over the world. In the UK, demand for AdBlue® is on the increase, with more than 20 million vehicles expected to require it by 2020. The unit, which enables customers to self-serve as they do with other service bay machines, features payment options for coin, token and cashless inbuilt.

Matthew Butters, Marketing Manager at PCL, said: "It's no secret that the petrol forecourt model is evolving to keep pace with changing customer expectations and advancements in vehicle technology. Now, more than ever, customers expect a slick experience, and key to this is the facilities forecourts offer.

"We look forward to launching our new air and nitrogen forecourt range at UNITI Expo, and to showing owners and operators how our safe and reliable inflation solutions can help them maximise revenue and profit, while providing the best possible experience for their customers.

"Created to meet the exacting and testing demands of the modern petrol forecourt, the range is designed with quality, robustness and ruggedness in mind, and it is all of these reasons which mean PCL is chosen time and time again by forecourt operators all over the world."

Founded in 1938, PCL maintains a firm commitment to its roots and still manufactures from its 12,000m² production facility in Sheffield – the home of engineering excellence. The business is proud to display the city's prestigious mark of quality and excellence on its 'Made in Sheffield' products.

PCL is located at Hall 5 Stand C60 at UNITI Expo. For further information, visit: https://www.uniti-expo.de/nc/en/homepage.html.