Pulsar Instruments Publishes Employers Guide On Controlling Workplace Noise
Pulsar has published a short guide entitled '5 Steps to controlling workplace noise' aimed at safety and health professionals with the responsibility of safeguarding hearing at work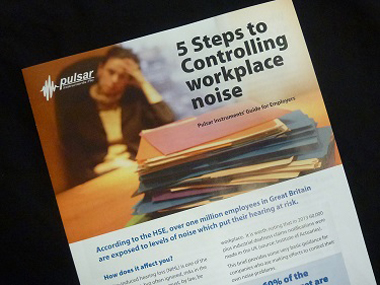 This brief guide provides an easy-to-read introduction to noise-induced hearing loss and an overview on the importance of the Control of Noise at Work Regulations (2005) for those seeking to both safeguard workers' hearing and comply with the Law.

Current figures from the Health and Safety Executive in the UK estimates that 1 in 7 of the UK population are either deaf or hard of hearing and over one million employees in Great Britain are exposed to levels of noise which put their hearing at risk. Clearly information and prevention are key here for those in charge of occupational safety.

The guide looks in turn at the main duties required of employers who are making efforts to control their noise problems using a step-by-step approach.
The guide taps into the wealth of experience (nearly 50 years) of the team of advisors at Pulsar Instruments at providing guidance on what is required from employers under the Legislation and the typical noise measurement methods on offer. It also covers at length noise action levels and legal limits to be considered together with any action plan and reporting mechanisms to be arranged.

The guide also features a Case Study.