Has Your Old Sound Level Meter Seen Better Days
Your old sound level meter could be costing your company more money than it saves by failing to provide accurate noise measurements or by not being compliant with occupational standards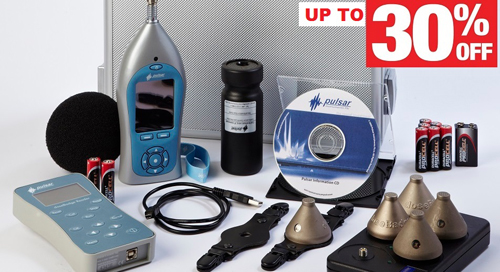 You can now upgrade to a fully compliant sound level meter and save up to 30% on a brand new Pulsar noise measurement kit with our latest trade-in offer.

Trade in your old, used sound level meter kit (any brand) with us and we will offer you up to 30% off of a brand new Nova measurement kit. It does not matter if your sound level meter is in working condition or not! We will accept it. This offer is aimed at helping users who have older, broken or non-compliant noise measurement instrumentation with the cost of upgrading to a newer, more efficient and trusted model.

Remember that, in case of a dispute over occupational hearing loss between an employee and employer, evidence of correct monitoring of the working environment is key for both parties.

Therefore, it is vital that you use correct and compliant instrumentation because if not, any noise measurements taken are likely to be rejected by the courts.

This offer is available across the Pulsar Nova range of sound level meters. NOVA are the only professional sound level meters with OLED and LEMO technology, a durable die cast aluminium outer case and extra-long life battery. They also provide users with the unique opportunity to add features at the time of purchase or at a later date.

This offer is only available to residents of the UK mainland. There is no cash alternative. Cannot be used in conjunction with any other offer.

Purchases must be made between Monday 8th August 2016 and Friday 30th September 2016. Pulsar Instruments may withdraw or suspend this offer at any time without notice. The trade in offer only applies when the customer agrees to trade in a sound level meter as per promotion entrance criteria. For those cases where the unit is not presented, we will charge the full price for that item.