MONO Showcases Its Depositors And Convection Ovens At FHA Singapore
At this year's FHA Exhibition in Singapore, 12-15 April, MONO Equipment will be showcasing its most popular confectionery depositors along with its highly-acclaimed BX Eco-touch convection ovens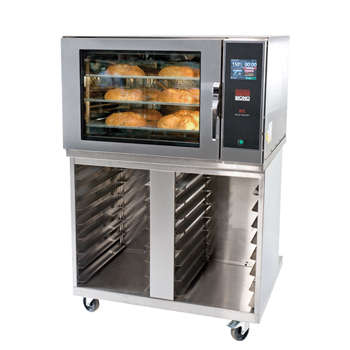 FHA is the largest exhibition of its kind in the Far East and provides MONO with an excellent opportunity to meet old and new customers along with our network of Official Distributors in the region including those from Hong Kong, Indonesia, Japan, Korea, Malaysia, the Philippines, Singapore, Taiwan and Thailand.

Live Demonstrations Each Day on our Omega Plus
Throughout the exhibition, live demonstrations will take place using our best-selling Omega Plus Confectionery Depositor; illustrating its true versatility in creating a range of products, including eclairs, macaron and multi-drop cakes, via its user-friendly touch-screen colour controller. Our Omega Plus with Wirecut Confectionery Depositor will also be used for live demonstrations by Food Fresh PTE on a nearby stand.

Also on display will be our very compact Epsilon Tabletop Depositor; the perfect solution for start-ups or businesses which need to produce top quality items consistently and accurately, in a small space, with a minimum amount of investment.

Leading the Way for Efficient Bake-off
MONO's BX Eco-Touch Convection Ovens are used by the majority of the UK's leading supermarket chains, and food-2-go outlets, due to their superb bake quality, their affordability and their range of inherent energy-saving features. They are also used in almost every continent by businesses who demand reliability and longevity.

Available in 4/5-tray and 10-tray models to take a variety of different tray sizes to suit most markets, the BX Eco-Touch sets the standard of bake-off oven which other can only try to emulate. A stack of 2 x 4-tray BX ovens will be on display at FHA.

Backed by the Might of the Ali Group
MONO Equipment has been a part of the hugely successful Ali Group since 2007 and will, this year, be exhibiting on one of the prestigious Ali stands in Hall 2.

Employing over 10,000 people via 77 brands across 33 countries, the Ali Group is the largest global leader in food service equipment. This colossal business brings together the widest and most innovative brands, and products, in the industry and provides MONO with access to a vast array of equipment from its sister companies; this enables MONO to provide a full bespoke solution for all sizes of businesses whatever their diversity.

Please feel free to visit us at any time during the show to see our equipment in action. We will be situated in Hall 2 – Stand E4-01.