Rotork Actuators Perform Vital Fire Safety Duty On The Istanbul Metro
High temperature specification Rotork RC200 scotch-yoke pneumatic actuators have been ordered for a vital fire safety duty in new subway tunnels under construction for the Istanbul Metro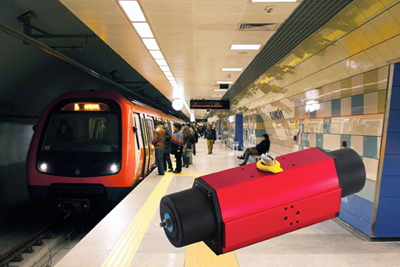 The Istanbul subway system in Turkey is undergoing a significant expansion programme involving 900 kilometres of new routes that are due for completion by 2023. Tunnels on the new routes are fitted with ventilation dampers in sizes up to 2 metres square. To meet stringent safety standards, the actuators operating these dampers must be able to rapidly close them and shut off the airflow in the event of a fire.

Rotork RC200 pneumatic actuators were selected for this application due to their compact design, fast operating capability, long term reliability and minimum maintenance requirement. In addition, the actuators had to pass the stringent temperature and cycling tests required to meet the high level of safety demanded by the application.

These included heating the actuator from -5ºC to +250ºC in only 20 seconds and then confirming reliable operation with no air leakage for a minimum period of one hour at the maximum temperature.

Successful completion of the tests has led to the supply of several hundred actuators to the damper manufacturer in Turkey, Elektroteknik Klima Sanayi ve Ticaret A.S.