Telescopic Masts Deployed In A Matter Of Minutes
The SMC SWIFT Mast Series are light weight, easily transportable, quick to deploy and robust in even the harshest of environments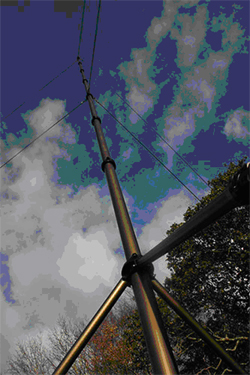 SMC SWIFT Mast SeriesHeights range from 4 to 10 metres with a base diameter of 74mm, carrying head-loads up to 10kgs. The mast can be elevated manually, or by hand or foot pump for even quicker and easier elevation.

The SWIFT Mast Series can be carried and deployed by one person in a matter of minutes. Perfect for use in the field.

We have utilised newly developed technology to maximise the performance of the SWIFT mast, designing the mast with the user in mind. This includes innovative cam lever locking collars to enable you to lock the mast at any height swiftly and easily, allowing you to adjust the height of the mast for your requirements. We have also included a newly designed damping systems which means the mast can be quickly retracted, whilst remaining safer than ever before.

The telescoping mast sections are made from specially finished aluminium tubes, making the mast light and robust, and the specially finished anodising process, which comes as standard, leaves the mast looking better for longer.

The SWIFT has uniquely designed accessories to ease usage. These include:

• An installed tripod, further easing field deployment
• A carry bag
• A trolley system, so the mast system can be wheeled across even the most rugged terrain 
     
The versatility of the mast means it can be used in a variety of applications, such as defence, event communications, weather monitoring, security and many more.