Bruntons Are A Fine Fit For Belgium Navy Flagship
Bruntons Propellers, working closely with their French agents Wenex have secured the contract to provide the Belgium Navy's latest vessels with complete propeller and stern gear packages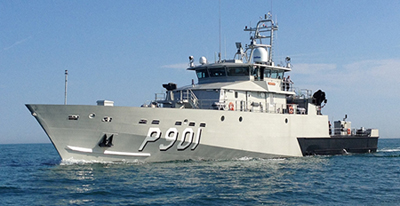 The ships were designed by Bureau Mauric and built at the Socarenam shipyard.

The first ship, the 'Castor', has already been launched and during trials demonstrated exceptional performance for a steel hulled displacement vessel of her size. Fully loaded she cruised at over 22.5 knots and on one engine maintained 17.5 knots.

The twin screw sterngear packages were designed by Bruntons Naval Architects and include shaft lines with total lengths of approximately 11.5 metres each and diameters of 200mm. The 5 blade fully CNC machined propellers, have a diameter of 2130mm.

'Castor' is the Belgium Navy's flagship and she will be joined by her sister ship, the 'Pollux', during the course of 2015.