Kee Safety Designs Bespoke Structure For Reading Transport
Kee Safety has provided Reading Transport with a bespoke Mobile Guarded Access Platform for its new fleet of gas powered buses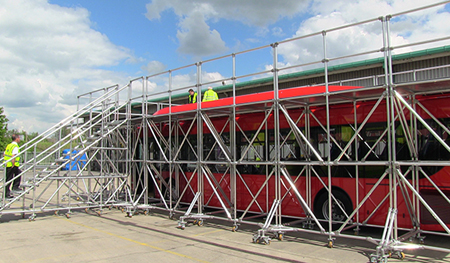 Utilising Kee Lite® and Kee Klamp® fittings, the tubular structures specialist, designed a safe working at height system for maintenance teams accessing the gas cylinders housed at the top of the bus.

Reading Transport is a bus operator serving the towns of Reading, Newbury and surrounding areas in the county of Berkshire. Over 100 years old, the company operates under the brands Reading Buses, Newbury Buses and Goldline Travel. Reading Transport is investing in economical vehicles and has recently introduced 20 new CHG gas powered buses. For it to be possible to regularly maintain the fleet, a lightweight portable safe working platform is required. Having worked with Kee Safety many years ago, the company made contact to find out what solution it could provide.

"We discussed our requirements with Kee Safety and what impressed us was their ability to provide a bespoke system that ticked all the boxes," commented Mike Batt, Purchasing & Facilities Manager, Reading Transport. "We have been working with the structure for a few weeks now and are extremely happy with the end result as it provides a safe and secure working platform that we have confidence in. We see the opportunity for using this type of system for other applications across the single deck fleet for air con servicing, radio antenna work and roof damage."

The platforms are constructed using a combination of Kee Lite® and Kee Klamp® fittings. It is crucial that there is no gap between the platform and bus to avoid any possible accidents. However, this means that the structure needs to incorporate a form of cushioning to run along the internal edge to eliminate any damage to the paint work. With the structure being mobile, it is used outside and then easily moved to an undercover parking area when not in use.

Mobile Guarded Access Platforms are an adaptable, portable work space that allows elevated stable access where ladders or standard practices are not easily implemented. Every install has its own issues and requirements. The beauty of Kee Safety's systems are that they can be adapted and customised to suit any requirement without welding, meaning repairs or modifications can be made on site without specialist equipment.