Monitoring HMS A7 Using Cygnus Underwater Thickness Gauge
A team of divers from the A7 Project purchased a Cygnus DIVE underwater ultrasonic thickness gauge so that they could measure the metal thickness of the HMS A7 submarine to determine the current condi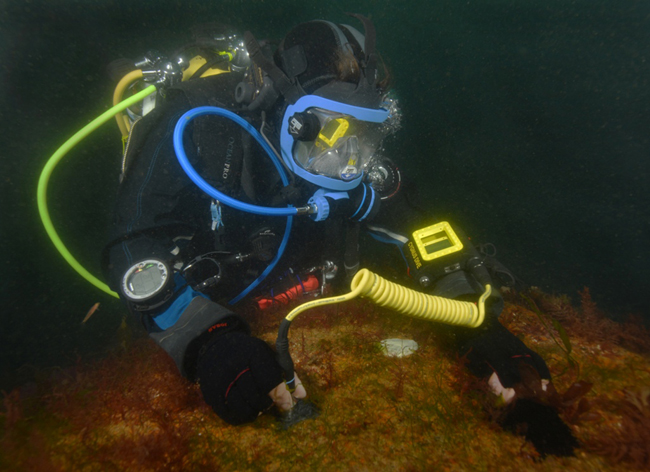 The A7 Project is part of The SHIPS Project (Shipwrecks and History in Plymouth Sound), which is being run by a local group of divers and shipwreck enthusiasts. The main aim of the project is to record the long maritime history of Plymouth and the nearby area and in doing so also raise awareness of their historic and varied maritime heritage.

By documenting, recording, mapping and publishing this information it will help to ensure these archaeological sites are preserved and appropriately maintained. This is important for a whole host of reasons including, remembrance, conservation, historic value and for future generations.

The A7 Project is one of the varied array of projects that are currently on-going. It is an investigation of the Royal Navy submarine HMS A7 which was lost in 1914 in Whitsand Bay, Cornwall sadly with all hands lost.

The submarine A7 is designated as a Controlled Site under the Protection of Military Remains Act 1986, this prohibits all diving operations without licence from the U.K. Ministry Of Defence. The A7 project team are the first to be granted a license.

As part of their study, the team of divers used the Cygnus DIVE underwater thickness gauge to measure the metal thickness of HMS A7. This helped to establish not only its current condition but over time can be used to monitor the rate of corrosion. Due to the pitting of the steel, the team used the gauge in single echo mode with a twin crystal probe. As the gauge has data logging capability, readings were logged to be analysed later at the surface.

Peter Holt, SHIPS project manager and director, 3H Consulting Ltd., said "We used the 5MHz dual crystal as it gave the best results on the pitted steel we found on the many corroded ships hulls where we tried the UT gauge. The DIVE was reliable, very easy to use, has simple menu system and displays. The logging function was essential as we only had 13 minutes on the wreck each day; I could make lots of measurements and figure out the answer back home in post processing, we also didn't have to write anything down or think too much as thinking isn't so easy in 40m water with the effects of narcosis!"

There are many other supporters of the A7 Project, including the Universities of Birmingham and Plymouth, 3H Consulting and the Nautical Archaeology Society and we are very pleased that a Cygnus gauge can play a small part in what is a very worthwhile project.