Top Speakers Announced For Asset Management Conference In Hong Kong
World leading experts will head the speaker panel at the Asia Pacific Regional Conference on Asset Management, being held at the Holiday Inn Golden Mile, Hong Kong, on January 20-22nd, 2015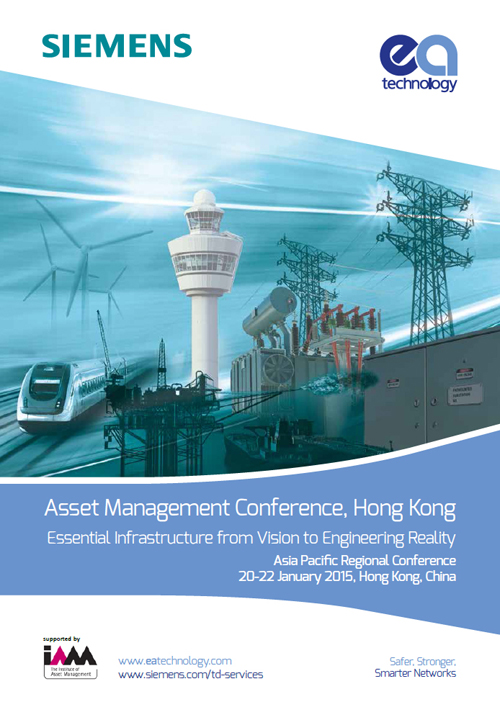 Titled 'Essential Infrastructure: from Vision to Engineering Reality', the conference is being hosted by power asset specialists EA Technology and Siemens Smart Grid Division, and supported by the Institute of Asset Management (IAM), to share the latest thinking on how to make physical assets perform better and manage costs in a world of rising overheads, ageing assets and increasing demands from stakeholders.

Topics covered will range from how to meet increasing pressure from regulators for better asset performance at lower cost, to the challenges of reducing carbon emissions in all aspects of Asset Management.

The headline speakers include: Paul Poon, Managing Director, CLP Power Hong Kong Ltd, P. K. Chan, General Manager (Transmission & Distribution), Hong Kong Electric Company Ltd., RT Muraly, Corporate Planning, TNB, Malaysia and Stephen Morris, Immediate Past President of the IAM. They will be joined by Asset Management experts from Australia, China, Indonesia, New Zealand, UK and USA.

Sectors involved include power, utilities, petrochemicals, transport and manufacturing.

Robert Davis, CEO of EA Technology, said: "This is an outstanding opportunity to learn how industry leaders make their assets perform better and make smarter investment decisions. Delegates will also be able to get up to speed with the latest techniques for achieving Asset Management excellence, including the new ISO 55000 international standard on the management of physical assets."

The first two days of the conference will cover industry trends, finance and investment, Asset Management implementation, together with the challenges and opportunities faced by asset managers. On the third day, delegates will be invited to take part in technical masterclasses on
ISO 55000 and condition-based Asset Management.