London Welcomes 10th International Railway Infrastructure Exhibition
This year is time for change as London's Earls Court welcomes Infrarail's 10th International Railway Infrastructure Exhibition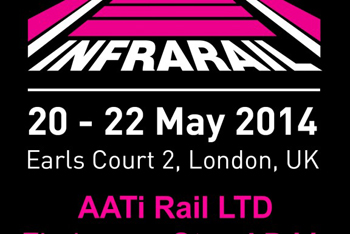 International Railway Infrastructure ExhibitionIt was previously held in Birmingham, but now its time for London to get a taste of this unique opportunity where the rail infrastructure market connects all in one place against a backdrop of business generation, discussion and innovation.

The latest technology in action can be seen by visitors and exhibitors alike, you can learn about new products/services, amalgamate existing relationships and make new connections.

AATi will be exhibiting their exceptional high quality antislip antiwear cast metal stair nosings at this year's show. To see all their latest products and current news please visit them at Stand D44 http://www.infrarail.com/_downloads/floorplan/.

AATi Ltd (formally Antislip Antiwear Treads International Limited) formed in 1984 and adopted the traditional London Underground cast stair tread designs which have been an enduring and very effective feature on the UK rail network for over 50 years.

The company has developed its product range to encompass DDA (Disability Discrimination Act) requirements in modern stairway design, also focusing on uses outside the traditional markets; light rail, over-ground, station terminals and a wide range of commercial and architectural applications. All products are designed and manufactured in the UK.