Bredel Hose Pump Fuels Vital Energy Breakthrough
San Diego-based Sapphire Energy, the pioneer of an new industry – Green Crude production – is taking advantage of the unique benefits of Bredel hose pump technology from Watson-Marlow Pumps Group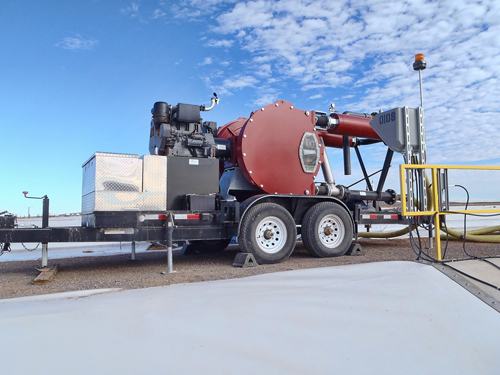 Sapphire is using a Bredel 2100 for the shear sensitive transfer of algae used in an innovative fuel production process which offers the potential to transform America's energy and petrochemical landscape.

Backed by $100 million of government funding, in August 2012 Sapphire Energy opened its state-of-the-art Green Crude farm in Columbus, New Mexico. To help facilitate this integrated algal bio-refinery, the company required a suitable pump to transfer shear sensitive algae between various sizes of growth / grow-out ponds.

After careful market consideration, Sapphire opted for a Bredel 2100 high performance hose pump from Watson-Marlow Pumps Group. The pump's versatility to handle variable flow regardless of pressure, simplified the decision. Also in the pump's favour was its robust design – regarded essential in a dry desert area where it is 46°C in summer with dirt circulating in winds that can exceed 50 mph. According to Sapphire, the decision to adopt the Bredel hose pump has been instrumental in helping the company make the leap from pilot plant to true farm pond commercial production.

Essential to the application, Sapphire required a pump with high flow potential. Offering 100% positive flow rates up to 108,000 litres per hour, the Bredel 2100 is a duplex model featuring twin 100mm pump heads with common suction and discharge manifolds, mounted to a single gearbox and motor. Also of high importance was the need to operate from a portable platform. With this in mind, Watson-Marlow engineers customised the pump so it could be mounted on a trailer bed, allowing it to move from pond to pond. A diesel engine is used to power the duplex pump/gearbox, which runs at 1200-1500 rpm.

There are many other advantages to using Bredel 2100 series hose pumps, such as discharge pressure up to 16 bar and suction pressure 8.5 metre lift to 2 bar. Furthermore, the fluid being pumped does not contact mechanical parts or seals. The only wearing part is the hose, which can be quickly and easily replaced without dismantling the pump, thus supporting low cost maintenance and short downtime requirements.

Sapphire Energy is backed by a team of leading US researchers, scientists and blue-ribbon investors, including Cascade Investment, an investment holding company owned by Bill Gates. Sapphire has already produced fungible, drop-in transportation fuels, including 91 octane gasoline, 89 cetane diesel, and jet fuel, all out of algae, sunlight and CO2.

The Green Crude produced by Sapphire differs significantly from other forms of biofuel because it is made solely from photosynthetic micro-organisms (algae and cyano-bacteria), using sunlight and CO2 as its feedstock. It is not dependent on food crops or valuable farmland, does not use potable water and does not result in bio-diesel or ethanol. What's more, Green Crude enhances and replaces petroleum-based products, is compatible with existing infrastructure and is low carbon, renewable and scalable.