New Programmable Modular Power Supply Providing High Current And Power
The new modular powerpak unit from Diagnosys provides programmable voltage and current supplies to power units being tested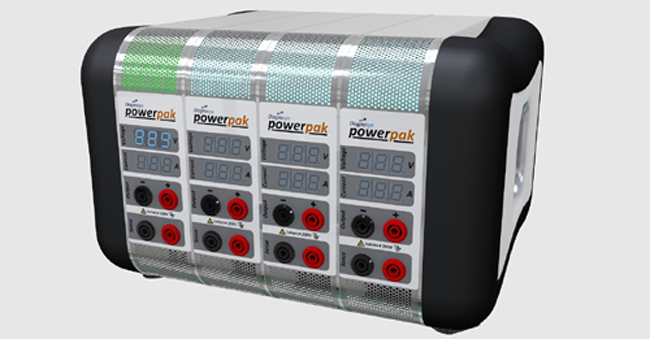 Diagnosys PowerPakDesigned primarily to complement the standard built-in power supplies of the PinPoint range of test systems, the powerpak extends both the number of power rails available and also the voltage and current available.

With the base unit containing a single module as standard, another 5 modules can be added at any to time to provide up to 6 separately programmable power rails. Each power rail is floating and can therefore be connected to provide positive or negative voltages thereby delivering a versatile power option to any test bench. In addition the modules can be connected in series to provide higher voltage options.

The powerpak is programmed through the USB 2.0 interface on the main unit and is closely integrated with TestVue software which is used across the PinPoint range of systems. Further increasing the versatility of the powerpak, a separate software driver is supplied so that it can be controlled and programmed from a PC or other test system making the powerpak suitable for most automated test applications.

Each module of the powerpak can be programmed to deliver a maximum of 20V and 40A with displays on the front panel showing the programmed voltage and current, or the actual current when the unit is in use. Having an overall safe power limit of 240W, the six separate modules can be programmed as required.
The powerpak provides a flexible and scalable programmable power supply that is suitable for use with most automated test requirements.

Further details visit (http://www.diagnosys.com/products/powerpak ) or contact direct - details below.