Non Contact Linear Measurement Sensor
For quality control in precision manufacturing the new AMETEK Solartron Metrology Orbit LT Laser Triangulation System has industry's widest range of output options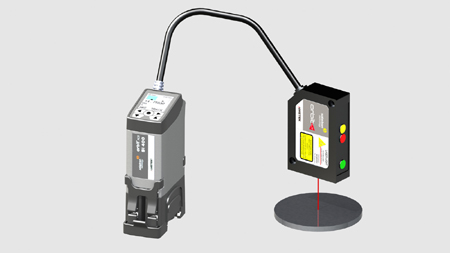 A non-contact linear measurement sensor with a wide range of available outputs has been introduced by Solartron Metrology (www.solartronmetrology.com), a unit of AMETEK, Inc. The new Orbit LT Laser Triangulation System is designed to support quality control in high volume precision manufacturing applications requiring verification of every part.

Addition of non-contact capability allows Solartron to meet the needs of manufacturers of sterile or delicate products as well as items that might be scratched by traditional touch probes. The company intends to introduce models soon with higher accuracy and speed for more demanding applications.

Orbit LT sensors can be connected with other Solartron probes via the company's Orbit network or the newer Orbit ACS (Automation and Control System). Other available outputs include Modbus, RS232, RS485, USB, Ethernet TCP, Discrete NPN, PNP, logic and analog (0-10 VDC).

The sensors provide 15 mm range, 45 mm offset, with 0.1% F.S. (Full Scale) accuracy. The heavy duty casing is IP 67 rated. Easy installation includes teachable settings for different surfaces.

Applications include:

• Automotive (engine & transmission parts)
• Electronics (product casings)
• Aviation/Aerospace (turbine blades, castings)
• Medical devices
• Industrial automation
• Appliance manufacturing
• Metals
• Packaging

Solartron Metrology is a world leader in design and manufacture of precision digital and analog dimensional LVDT gauging probes, displacement sensors, optical linear encoders and associated instrumentation.

It is a unit of AMETEK, Inc., a leading global manufacturer of electronic instruments and electromechanical devices with annual sales of more than US$3 billion.