Denso Tape Protects Bluebell Rail Wheel Assemblies
The well-known, volunteer-run, Bluebell Line was the UK's first preserved standard gauge passenger railway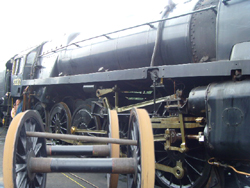 Wheel Assemblies For Locomotives Maintaining the line's locomotives, coaches and signalling systems is carried out at its Sheffield Park Station.

A key aid in helping this preservation of Bluebell's locomotives has turned out to be Winn & Coales Denso Tape, which has been in regular use there for over 20 years. This is primarily on wheel assemblies, particularly on main bearing journals and crank pins. The use of Denso Tape is two-fold. First to prevent corrosion after pretreatment of the surfaces; secondly, as work is carried out in the open yard it stops abrasive damage from grit resulting from shotblasting in adjacent areas, and from coal dust.

Perhaps an unusual application for Denso Tape (although its range of uses has become legendary) was to stop water leaks in tender tanks. As the Bluebell engineers could not reach the leaking areas for welding, they applied small sections of wood wrapped in Denso Tape in the leaking areas. The first application was ten years ago; and there are still no leaks.

Denso Tape is a non-woven synthetic fibre fabric impregnated and coated with an adhesive compound based on petrolatum.