Potholes Bring Traffic To A Standstill On New Delhi Roads
In recent months the news has been full of reports on potholes and the damaging effect they have on road infrastructure, cars and local government budgets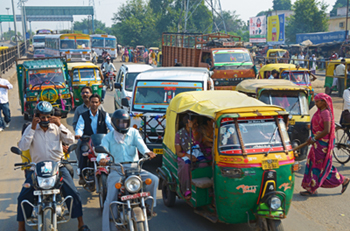 An online newspaper recently reported that in one day alone, 7km of traffic was bought to a standstill, between Ashram and Jasola, because the road had been so badly damaged by potholes.

The potholes caused traffic to bottleneck which resulted in long delays for motorists – so much so that extra personnel had to be deployed to the area to help manage the traffic.

And it's not just happening in New Delhi! Potholes are causing problems on many expressways across India – quite a disruption for a population of 1.2 billion.

Road repair is a topical issue in India with the National Highway Authority of India (NHAI) recently giving the go ahead for a US$70 billion road highway expansion programme. The National Highways Development Programme (NHDP) aims to develop 50,000km of national highways in several cities across India. As part of this expansion, the potholes on the existing highways need to be repaired – this is where Ultracrete can help!

Ultracrete Instant Road Repair® is a cold lay asphalt concrete which has been continuously developed over the past 35 years. It has been used all around the world with excellent results. Some of the major projects to date include Germany's Potsdam Autobahn where peak traffic reaches 900,000 a day and Nigeria's Gbongan-Oshogbo and Ilesa Road which has proven to play a crucial role in keeping the area's rural communities connected. It also has been used in Brazil, Japan, Sweden, China, Romania plus many other countries.

Applied in 3 easy steps – clean, pour, compact – Ultracrete Instant Road Repair® can be applied in all weathers including hot, dry, humid and even monsoon rains. This innovative material has been independently tested and is proven to be a quality, durable solution for first time instant and permanent pothole repairs.

Ultracrete Instant Road Repair® is suitable for heavily trafficked areas such as congested city centres, airports and highways. The versatility of this material means it is also suitable for repairs on car parks, driveways, railway stations, footpaths and school playgrounds.

Ultracrete Instant Road Repair® is also available for you to manufacture under license. To find out more about this exciting business opportunity, please visit http://www.youtube.com/InstarmacGroup to watch our step by step guide on becoming an Instarmac Licensee.