Data Capture Pod From Diagnosys
Understanding the need for a fast and efficient way to generate functional test programs, Diagnosys has designed the all new Data Capture Pod.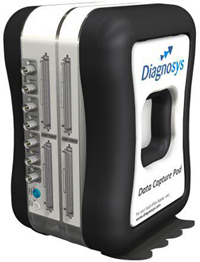 New Data Capture PodBy capturing electronic signals on an IC or at an edge connector of a PCB, the Data Capture Pod quickly converts them to a functional test program ready for use with the PinPoint range of test and fault finding systems. Having user programmable threshold voltages, sampling rates and trigger conditions, the pod handles complex circuits and has dedicated analog channels for even more versatility.

The Data Capture Pod can be used with a laptop PC making it a very portable and flexible system to acquire signals on larger pieces of equipment. With USB 3.0 and Ethernet 100BASE-T interfaces, communications to a PinPoint system or PC are fast and reliable.

The base unit contains 96 single ended digital channels and this capability can be expanded by removing the end cap and adding another pod; up to 4 expansion pods can be added to give 480 digital test channels. With its own power supply the portable Data Capture Pod provides a fast and effective way to produce functional test programs for either a whole PCB or an individual IC.