NEW Fusion Bread Plant AT IBA Exhibition
At this year's IBA, MONO Equipment will be showcasing a number of exciting products, including the new flagship bread plant, Fusion, which will have its very first international trade showing at IBA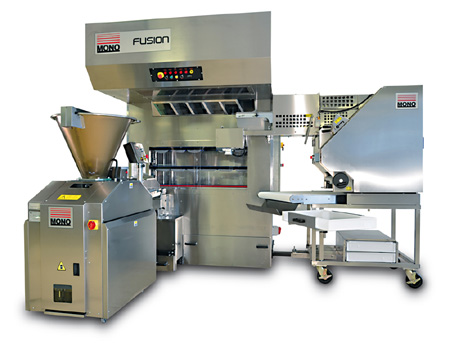 New Fusion Bread Plant MONO Equipment's new flagship bread plant, the Fusion, is the culmination of 2 years' product development, and extensive refinement, which has resulted in one of the most efficient, accurate and flexible bread plant available today.

The highly acclaimed Fusion Bread Plant can divide, intermediate prove and shape up to 960 pieces per hour, handling a product weight range of between 250g-1000g and comes in four different size formats.

This versatile bread plant can produce a range of products including tin breads, bloomers, batons and the perfect French stick. These superb bread plants are already used by a leading UK supermarket for all their instore scratch bakeries.

MONO Equipment's Eco-touch Ovens are the most energy efficient convection ovens Mono Equipment has ever produced. Each oven is packed with an array of energy saving features to reduce energy consumption and incorporates a truly innovative, state-of-the-art Colour Touch-Screen Controller:

- Sleep Mode – reduces energy consumption by up to 74%
- Auto Shutdown – prevents the oven using power when left on by mistake
- USB Programmable – helps reduce carbon footprint with remote programming

The superb new energy saving eco-touch Ovens also incorporate a wealth of new functions including a Favourites Menu, 7-Day Timer and On-Screen Help function. There are a number of size options available to suit most needs and most tray sizes.

MONO Equipment is the longest established Confectionery Depositor manufacturer in the world. This illustrious history boasts a long line of depositing machines from the original MK V, produced in the 1960s, to the state-of-the-art Omega Touch, Omega Plus, Omega Plus with Wirecut and Epsilon machines available today.

Our confectionery depositors are amongst the most versatile and compact machines on the market with an established reputation for the exceptional efficiency, accuracy and consistency of their depositing.

Ideal for bakers, confectioners, caterers and hoteliers, the Omega Confectionery Depositors, Delta Confectionery Depositor and the EpsilonTabletop Depositor provides the perfect solution for all patisserie and confectionary needs.

They will process a wide range of products including Sponge Sheets, Swiss Roll, Angel Cake, Genoese, Chocolate Brownies, Battenburg, Carrot Cake, Drops, Eclairs, Cup Cakes, Fairy Cakes, Muffins, Meringues, Macarons, Choux Buns, Novelty Products, Biscuits, Cookies and Viennese.

Mono Equipment welcomes both old and new friends to our stand B4 – 140 to see our superb range of equipment in action.