London Taxi Service In Baku
The Baki Taksi Company is now successfully operating 1,000 damson coloured London Taxis and The London Taxi Service throughout the streets of Baku, the capital city of Azerbaijan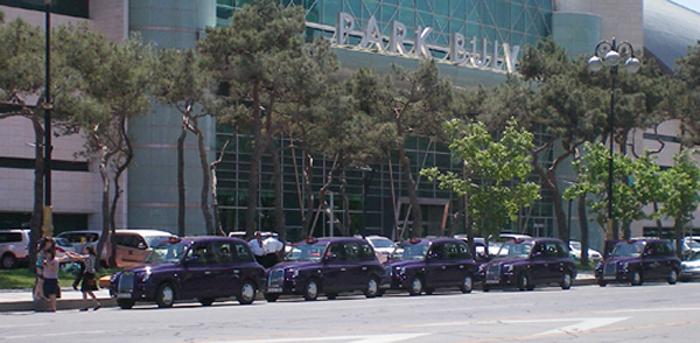 After delivering the London Taxis into the capital over the last year, The London Taxi can now be spotted easily wherever you go in the city, and this is great news for local passengers and tourists alike.

The London Taxi Company worked and continues to work with The Baki Taksi Company to help develop vehicle regulations, driver standards and vehicle standards leading to poor quality, black market vehicles being removed from the transport infrastructure.

All 1000 drivers have been through a London Taxi Company driver training programme to ensure they can provide a world-class service to their customers on a day to day basis.

As well as being operated by trained professional drivers, the fleet is supported by a highly efficient maintenance and parts service, ensuring all vehicles are safe and kept in first class condition.

Ilgar Gasimov, Director of The Baki Taksi Company said 'London Taxis has supplied 1,000 TX4 Cabs for the city of Baku. This has proved to be a tremendous boost to the city, its residents and businesses. All 1,000 taxis were ready for the Eurovision Song Contest in May 2012, covered with bright "light your fire" decals, which delighted our visiting guests to Baku and the Crystal Hall.

He continued 'I know that the expatriate community welcomed the London Taxi, and I am very pleased to say more and more local people are now experiencing the safe and secure London Taxi in their daily lives.

'The drivers have taken to the cabs, with great pride in driving such an iconic vehicle, all dressed in Baki Taksi uniforms. We are pleased to say that the London Taxi has proved so popular among our local taxi community; we now have over 500 new drivers wanting to join The Baki Taksi Company.

'We are now in the first stages of increasing the fleet, and look forward to many more years with London Taxis in Azerbaijan'.

Iain Robb, Country Manager for The London Taxi Company lives in Baku, Azerbaijan and was purposely employed to assist with the smooth running and success of The Baki Taksi Company.

If you would like to find out more about the success of London Taxis in Azerbaijan and how your city could benefit from operating The London Taxi Service, full contact details are below.