New Versatile Blower Is Inverter Controlled
A new totally enclosed centrifugal fan unit, complete with inverter control as standard, has been introduced by Air Control Industries of Axminster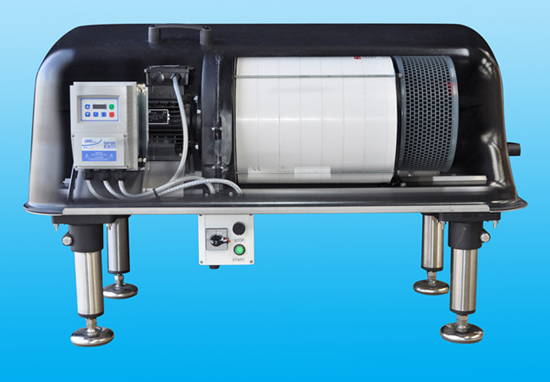 ACI's New MSX Centrifugal Fan UnitThe fan unit is ideal for drying applications but is equally suitable for either delivering or exhausting applications.

The new MSX unit is based upon ACI's 'Multi Stage' blower. It has a shaft-mounted, direct-driven backward curved bladed impeller delivering high air pressures at low motor speeds. This design ensures maintenance-free operation and low noise levels (below 76dB(A)). It also permits simple air flow shut off, such as with a butterfly valve, without risk of motor burn-out.

Delivered air pressures range up to 80in.SWG (2.8psi) with air speeds of 8,800 m/min (28,900 ft/min). Output air temperature is 80oC. Output is easily variable using the integral inverter.

The impeller is driven by a 2-pole 3-phase motor: standard voltage is 400/480V, 50/60Hz. The MSX is a free-standing unit mounted on adjustable legs and protected by an ABS cover.