Countdown To Eurovision 2012
In May 2012, Baku, the capital city of Azerbaijan will be the Host City of the Eurovision Song Contest, an annual competition held among active member countries of the European Broadcasting Union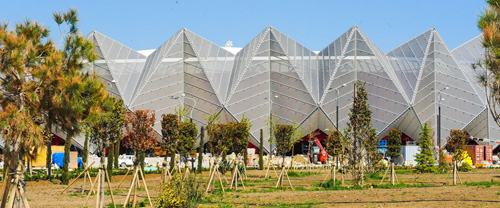 Eurovision Song Contest BakuThe historical centre of Baku is a maze of alleys, mosques, historic buildings and remnants of fortification, including the Palace of the Shirvanshahs and the Maiden Tower, now listed among UNESCO's World Heritage Sites. Much more than a historic site, the city hosts vibrant arts and cultural activities, as well as a bustling modern business sector.

Baku, also known as Baky or Bakı, is the largest city in the Caucasus and is situated on the western coast of the Caspian Sea and thus there are a number of mud volcanoes and salt lakes around it. The first written evidence for Baku dates to the 1st Century and the population of the city today is approximately 3.7 million.

The EBU announced in January that the 2012 Eurovision Song Contest will take place at the newly constructed Baku Crystal Hall, located near Flag Square in the city of Baku. The venue, commissioned by the City of Baku, is a brand new multi-purpose indoor arena with an expected capacity of up to 23,000 spectators.

The 2011 Eurovision contest took place in Dusseldorf under the slogan Feel your heart beat!, Baku 2012 will go into the history books under the motto Light your fire!

Azerbaijan has been known as the Land Of Fire for a while now and the symbol of fire and flames is used extensively across the country. The people of Azerbaijan also take great pride in this association with fire.

"Since the dawn of time, mankind has come together around fire to communicate through the telling of stories, song and dance. The Eurovision Song Contest is where people come together to celebrate and communicate through song and dance", explained the creators behind the idea of the theme art.

This inspiration can be seen in the theme of the 2012 edition of Europe's favourite TV show to be aired Saturday 26th May and also on the streets of the city.

The Baki Taksi Company operate 1,000 London Taxis throughout the capital streets of Baku and 500 of these vehicles have been liveried with Light your Fire artwork and commissioned to assist with the transporting of visitors and VIP's throughout the Eurovision period.

So in support of the UK and all things British, make sure you get behind our entry 'Englebert Humperdinck' as he sings ballad 'Love Will Set You Free' and listen out for the umissable commentary by Graham Norton.

Good luck Baku and good luck Englebert, the UK's behind you!