Mono Equipment Plays Host To 22 Russian Bakers
MONO Equipment was delighted to play host to a delegation of 22 Russian bakers recently which was organised by Dr. V. Dashevsky, Deputy Director of the International Industrial Academy in Moscow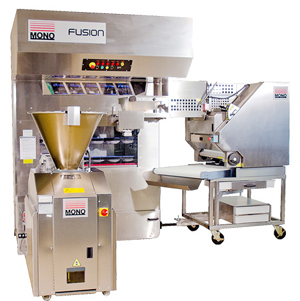 The New Fusion Bread PlantAs part of their trade mission to the UK, the group visited Foodex 2012 at the NEC the day before. The bakers, who came from all over Russia, travelled to visit MONO Equipment in Swansea where they were given an extensive tour of our manufacturing facilities where they were introduced to our extensive product range.

Throughout the day the bakers also enjoyed live demonstrations in our on-site Test Bakery using a range of equipment including our confectionery depositors, the new Fusion bread plants, convection ovens and deck ovens.

The day was also enriched by a visit to a well-known and respected local Welsh bakery in Llanelli, Jenkins Bakery, who had kindly agreed to give the Russian bakers a tour of their bakery premises which produces a wide range of bread, savoury and confectionery products. The visit provided the bakers with a superb insight in to the wide range of bakery products produced here in the UK along with the processes and equipment used in manufacturing them in a live bakery environment.

MONO Equipment's links with Russia can be traced back many years and this latest visit organised by the International Industrial Academy is sure to cement the relationship even further.