Demand For More London Taxis In Italy
The demand for London Taxis in Italy is on the increase. New orders, from our established partner, at the beginning of 2012 have increased by fifty percent versus the same period in 2011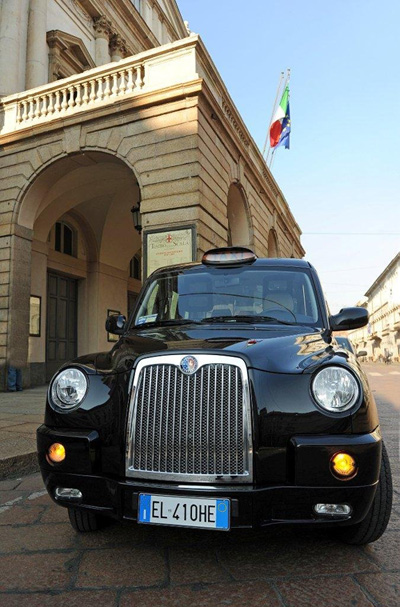 Taxi for LA SCALA opera house in MilanItaly is now one of the biggest markets for London Taxis in Europe with an additional order from London Cab Italia for 30 vehicles to join its growing fleets in major cities.

The standard colour of taxis in Italy is white but it is the recognisable shape and the height of the London Taxi that makes it stand out from the crowd amongst the bustling traffic on the streets of Milan and Rome.

Massimo Columbo, General Manager of London Cab Italia said 'the demand for London Taxis in our Italian cities is growing because the vehicle is suitable for everyone; business people who want to carry on with their meeting whilst traveling, tourists sightseeing and visiting their next landmark, female travelers who want to feel secure when traveling alone are just a few of reasons why passengers specifically request a London Taxi over any other vehicle available from their local taxi operator'.

He continued 'drivers are trained to high standards and have excellent knowledge of the area and driving skills which gives the passengers the real London Taxi Service'.

The London Taxi Service is based on a fully trained, professional driver who offers a premium service to passengers using the world's best taxi.

The London Taxi Company is in discussion with other countries looking to offer this international premium service. If you would like to be part of this success and find out how The London Taxi Service can benefit you, your business and country please contact us.