Jet Cook System At Anuga FoodTec 2012
D C Norris will be demonstrating its expertise in food processing equipment at Anuga FoodTec (27.03. - 30.03.2012) in Cologne: on show will be the Jet Cook System - part of the DCN Cook-Chill Range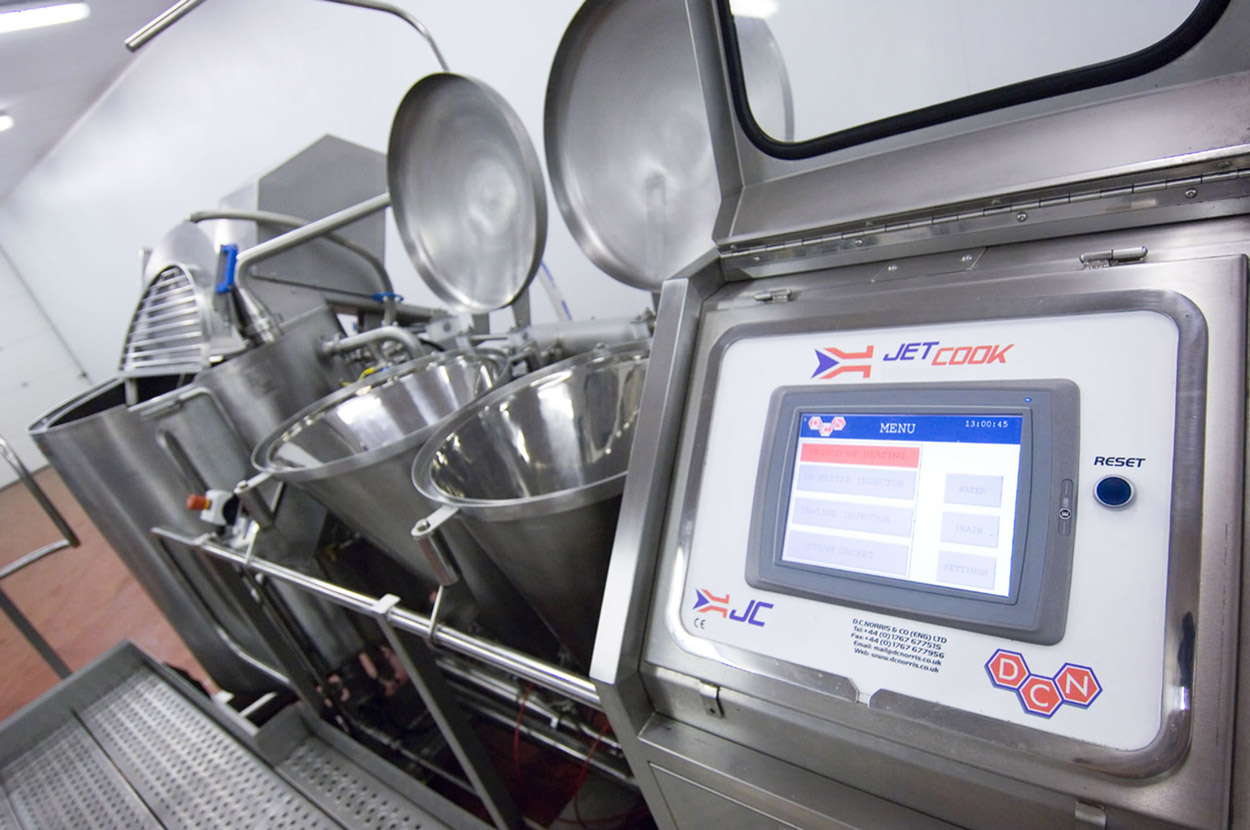 Jet Cook SystemIn addition DCN will also be presenting a Cook Tank-Tumble Chiller for Sous Vide style cooking and cooling. Another highlight of DCN's exhibition presence will be its Wok Style Braising Pan for frying or conventional cooking /simmering. Perfect for the preparation of small batch Ethnic or Ready Meal food types.

At Anuga FoodTec in Cologne, DCN will be exhibiting the Jet Cook which incorporates all the advanced features of DCN cooking technology into one universal system. Products are cooked and heated at rapid speeds in a DCN steam jacketed kettle using either the Jet Cook Nozzle or the Jet Cook Globe Head dependant on the product.

Ideal for Cook-Chill and other food processing methods, a Jet Cook system can be installed into new vessels or retro-fitted into existing equipment. The Jet Cook steam injection system looks like a jet engine and performs in the same way; it heats and pumps drawing product through the internal jet stream. Products are then cooked and heated at speed atomising steam to extract the maximum energy. The Jet Cook is ideal for pumpable products such as soups, sauces and pie fillings.

DCN will be showing The Cook Tank-Tumble Chiller which also forms part of the Cook-Chill family. The dual purpose stainless steel cylindrical tank is used for either tumble chilling of kettle produced items, or stationary cooking/cooling of solid muscle items such as joints, chicken, turkey and fish.

When in cook mode, vacuum packaged products are cooked Sous Vide style - slow cooked at low temperatures enhancing natural flavours and tenderness while retaining more meat juices and radically reducing meat shrinkage. The casings are then chilled in water to rapidly drop the product temperature preparing it for refrigerated storage prior to serving. This method of cooking and cooling retards bacterial growth, locks in freshness and provides a 5-6 weeks safe refrigerated shelf life.

In addition DCN will also be presenting its extensive expertise in the area of Software Technology. Visitors to the DCN stand will be able to see demonstrations of the 2012 edition of the Recipe Manager System. Working closely customers to understand and identify what they require; DCN have developed an innovative advanced version and are bringing it to the market at Anuga. The software application is designed to manage cook processes in a semi–automated controlled manner allowing the customer to create ingredients listings, step–by–step procedural recipes and user access security with all recipes stored to a relational database. Recipe Manager Software package provides a simple to use and flexible method of controlling a recipe driven production process.