A First For MONO Equipment In India
Mono Equipment recently visited Mumbai, India, where the very first Epsilon Tabletop Depositor was installed at Nazneen Bakery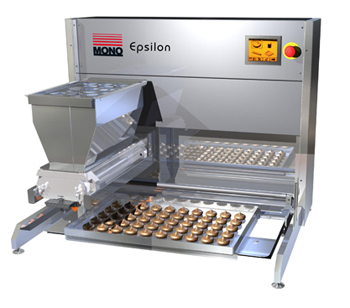 The Epsilon Tabletop DepositorNazneen is a well-established local bakery which produces a range of mouth-watering biscuits and confectionery products for the retail and wholesale markets.

Until now all the biscuits and confectionery products were painstakingly manufactured by hand; a very labour intensive process considering the volumes of items produced on a daily basis.

The Epsilon Tabletop Depositor was selected by bakery owner, Mr Ghanshyam Peswani, for a number of reasons including the very small footprint it occupies (space is at a premium in Mumbai), the flexibility of the machine to produce a range of products and the fact that very little training is required to use the simple touch screen controller.

Our Official Distributors in India, Autobake Productions and Indian Foods, worked closely with Mr Peswani to ensure that he purchased the correct machine and templates to suit his particular business needs. Indeed, Nazneen Bakery is already looking to add another template to its range to make further production efficiencies for another best-selling product which can now also be automated with the Epsilon.

The number of enquiries being received from 1-2 store bakeries by our Official Distributors in India is growing on a weekly basis as more and more businesses are looking to automate their bread and confectionery production due to the scarcity of labour in the cities and to cope with the demands of an ever-growing market.

MONO Equipment, Autobake Productions and Indian Foods would like to extend their best wishes to Mr Peswani at Nazneen Bakery for having the faith and foresight to purchase what will undoubtedly be the first of many more Epsilon machines sold in the Indian sub-continent.