Power Jacks Global Success Is Way Forward For Scottish Firms
The First Minister recently said that Power Jacks global success was contributing significantly to the Scottish export industry and should lead the way for other firms in this country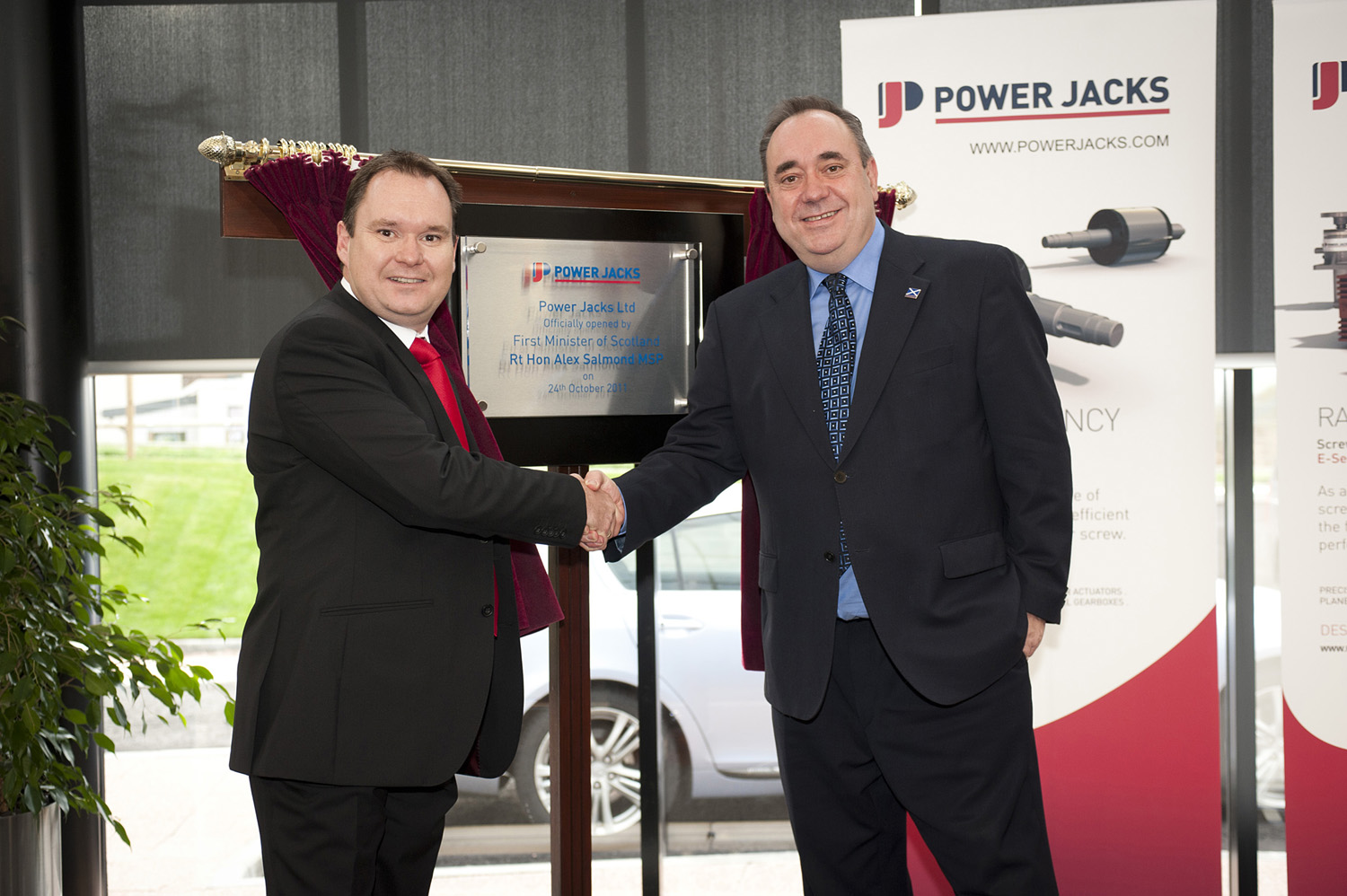 Rt Hon Alex Salmond with Bruce Bultitude The Rt Hon Alex Salmond officially opened Power Jacks' new £6million headquarters and manufacturing facility which has been purpose built to meet the company's rapid global growth.

He said: "I am absolutely thrilled to be opening the new Power Jacks headquarters in Ellon - right in the heart of my parliamentary constituency in Aberdeenshire. It is fabulous to see a Scottish manufacturing company that has its origins in 1903 and was established in its present form in 1987, continue not just to thrive, but expand, develop and grow. That much is clear when you look around the excellent workshop and offices that the company now calls home".

"The engineering work done by Power Jacks is highly skilled, and serves clients in more than 60 countries across the world, contributing significantly to the Scottish export industry. And as we develop Scotland's potential in renewable energy and manufacturing over the next decade, Power Jacks' success should point the way for other firms in this country."

Award-winning company Power Jacks specialises in producing world-beating industrial lifting and positioning equipment including screw jacks, gear boxes, actuators and planetary roller screws.

Power Jacks' significant expansion – which saw the company honoured with a Queen's Award for Business Enterprise after it increased overseas sales by 246% - resulted in the company moving into its next generation business complex at Ellon's Balmacassie Commercial Park as it marked its 24th year in business.

Managing director Bruce Bultitude said: "Power Jacks is entering an exciting new era and as a progressive, forward-thinking enterprise, we have consolidated our position for future growth. Our new headquarters will significantly enhance our operations around the world and underpins our commitment to the north-east of Scotland where our engineering heritage dates back to 1903.

"It is therefore a particular privilege for the Power Jacks team to have attracted the First Minister to officially open our new headquarters. As a tremendous advocate of Scotland's manufacturing and export capabilities, who is actively tackling the skills shortage issue, the First Minister is the most fitting figure to launch Power Jacks into its new era."

The Lord Lieutenant of Aberdeenshire, James Ingleby, was also at the Power Jacks opening ceremony, where he officially presented Mr Bultitude with the company's Queen's Award. The award marks Power Jacks' considerable global growth in 2010 in recognition of its business growth during recent years.

Key to Power Jacks' success is the company's global marketing capabilities which include a wholly-owned subsidiary sales office in Shanghai, more than 25 international distributors in Europe, Africa, Asia and Australasia, an interactive website and presence at international trade events.

Power Jacks' market activity spans more than 5,000 clients in more than 60 countries and across a diverse range of industries with its high-profile portfolio of clients to include blue chip companies such as, Airbus, BAE, Cadbury, Diageo, Ferrari & Red Bull Racing, Glaxo, ICI, Rolls Royce & Unilever.