Refresh With Everbuild Wonder Wipes
Wonder Wipes have long been the first choice wipe for tradesmen and DIY'ers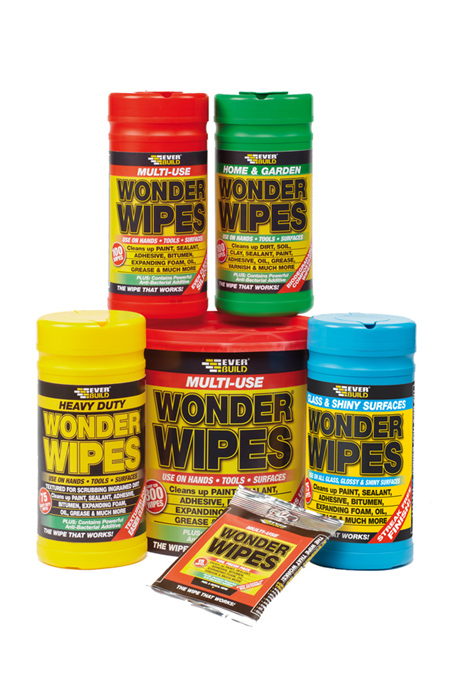 Everbuild Wonder Wipes Everbuild Building Products are pleased to announce that the brand has now become bigger and better than ever with the launch of two new products and a contemporary refreshed new look.

In addition to the hugely popular Original Multi-Use Wonder Wipes and Heavy Duty Wonder Wipes, the range now includes Glass & Shiny Surface Wonder Wipes and Home & Garden Wonder Wipes. Wonder Wipes have always been the wipes that work, and now they work in the Garden and on Glass too!

New Glass & Shiny Surface Wonder Wipes are a specially formulated industrial strength wipe designed to instantly clean glass and other shiny surfaces without leaving a smear. The wipes cater to all common marks found on these surface types such as; finger prints, dirt, paint smears, bird droppings and much more, leaving a smear free, super-shiny and - most importantly - sparkling clean finish. Glass & shiny Surface Wonder Wipes are perfect for the final on site clean-up of glass and glossy surfaces.

Home & Garden Wonder Wipes are another new addition to the Wonder Wipes range. Specially designed to be friendly to the environment, these biodegradable, compostable wipes are great for use inside and outside the home to clean dirt, soil, clay, sealant, paint, oil, grease and much, much more. Perfect for use after cleaning, digging, weeding and sowing, Home & Garden Wonder Wipes remove the need to keep dashing to a sink to clean hands and when you're finished with them throw them straight onto the compost heap – they are the ideal product for green-fingered individuals!

These exciting new products now sit alongside Multi-Use Wonder Wipes and newly re-vamped Heavy Duty Wonder Wipes, specially formulated wipes for use by the building, engineering and allied trades where one side of the wipe is textured for the removal of ingrained dirt and the other is un-textured to absorb any excess.

Nearly all of the wipes in the Wonder Wipes range contain a powerful anti-bacterial additive which, in addition to lanolin, ensures that they are active against most common bacteria found in the home and workplace, as well as being kind to skin. The Heavy Duty and Glass & Shiny Surface wipes all come in a 75 Wipe Trade Tub, the Home & Garden wipes are available in a 100 Wipe Trade Tub and the Original Multi-Use Wonder Wipes are available in a 100 Wipe Trade Tub, a Giant 300 Wipe Tub and handy 15 Wipe Foil Pack Sachets.

Whether it's decorating, plumbing, gardening, roofing, painting, joining or simply the prospect of reducing your carbon footprint, Everbuild Wonder Wipes have everything covered. For a limited period of time Everbuild are offering a 4 for 3 promotion to give a taste of what each product has to offer, so refresh your stocks with this new and improved range today!

Wonder Wipes - The Wipe That Works!