Robson To Feature On Eddie Stobart TV Series
Sheffield based Geo Robson & Co (Conveyors) Ltd is to be featured on the Channel 5 series Eddie Stobart Trucks and Trailers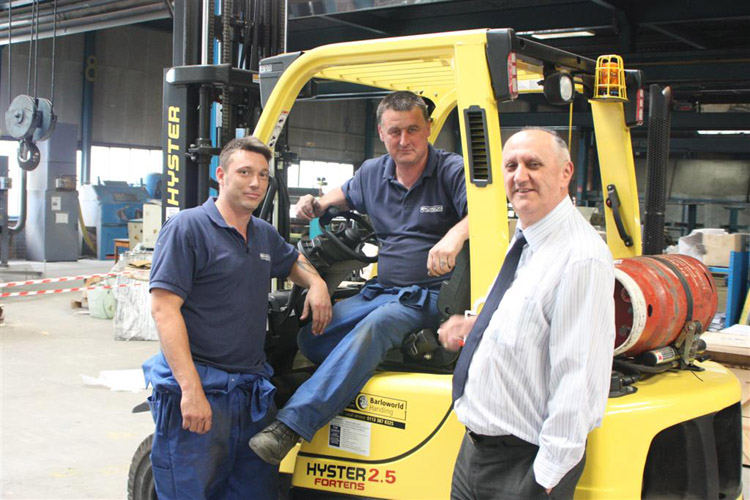 Ryan Whitingham / Shaun Dyson / Mick LevesleyRobson's Project Manager Mick Levesley was surprised to find a film crew accompanying the Stobart driver on the last pick up of Airport Conveyors destined for London Southend Airport.

The Airport is operated by Stobart Air and is undergoing huge redevelopment and will see substantial growth in the coming years having recently secured a 10 year partnership with easyJet to bolster their existing services with Aer Arann and Flybe.

As part of Stobart Group's redevelopment of the airport, a new passenger terminal is under construction. Robson was awarded the contract to manufacture and install the baggage handling conveyors, which transports the passenger bags from the Check-in through the security scanning onward to the aircraft, with completion due by the end of Autumn 2011, the installation is progressing well with all targets and budgets being met. The film crew will be following the progress of the passenger terminal until completion.

Stobart driver Ashley Maddox arrived in the brand new Volvo named Kate Michelle, took the filming and direction in his stride, which helped Robson's Ryan Whitingham and Shaun Dyson relax while they were filmed loading the conveyors on to the trailer.

Kevin Mannion gave an in-depth interview, providing the programme with a brief outline of the 100-year history, the various airport baggage handling products and industrial diversity of the Robson group. Interestingly Robson and Stobart Group have both worked in the same sites, a recent installation by Robson's for E.ON at their Stevens Croft Lockerbie Power Station, where Robson manufactured and installed a £1million Gantry Airglide Biomass Conveyor, the site is supplied by Stobart whom supply and transport and the Power Station's Biomass fuel.

The new series of Eddie Stobart: Trucks and Trailers featuring Robson is due to be aired early 2012.