Corby Of Windsor Going Beyond The Guest Room
Corby of Windsor has come a long way, from the first trouser press being made in a garage in Windsor, to today servicing the global hotel and hospitality industry.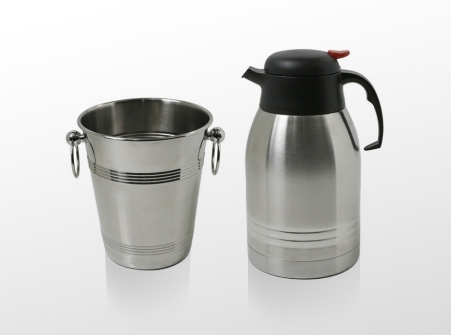 Stainless Steel Wine Bucket and Vacuum JugFor over 80 years we have been providing our customers with quality guest room amenities. We believe in going the extra mile in providing exceptional value products with the flexibility and innovativeness to create truly world class products. With this in mind, the next year or so will see the launch of products which go "beyond the guest room" starting with the introduction of our new Stainless Steel Wine Bucket with Ring Handles and Stainless Steel Vacuum Jug.

Since the acquisition of John Corby Ltd by the Fired Up Corporation Ltd in 2009, many changes have been made to the structure of the business enabling the company to enjoy significant growth. As a company with wholly owned production facilities in China and UK, Corby of Windsor are able to cost effectively design and create or source a range of products that provide exception value to our customers.

"The introduction of these new products commences our strategic aim of moving beyond the Guest room." says Corby Head of Marketing, Kellie Mason. "The next year or so will also be exciting times for us in Corby as we will be busy sourcing and designing innovative and exceptional value products to meet the hoteliers' demands."

In recent months, Corby of Windsor have established a strong presence selling direct to new markets including the Czech Republic, Germany, Spain, France and Belgium. With the introduction of b2b e-commerce websites in these markets, there is a greater demand for Corby to provide products and equipment for additional guest spaces in the hotel such as the reception area, restaurant, leisure and spa areas. Corby plans to ultimately provide our customers with easy purchaser access for the majority of amenities and equipment needs for their B&B and hotels.