First 100 London Taxis To Arrive In Azerbaijan Are Not Enough
Since their arrival in June onto the streets of Baku, demand to use The London Taxi Service has continued to grow.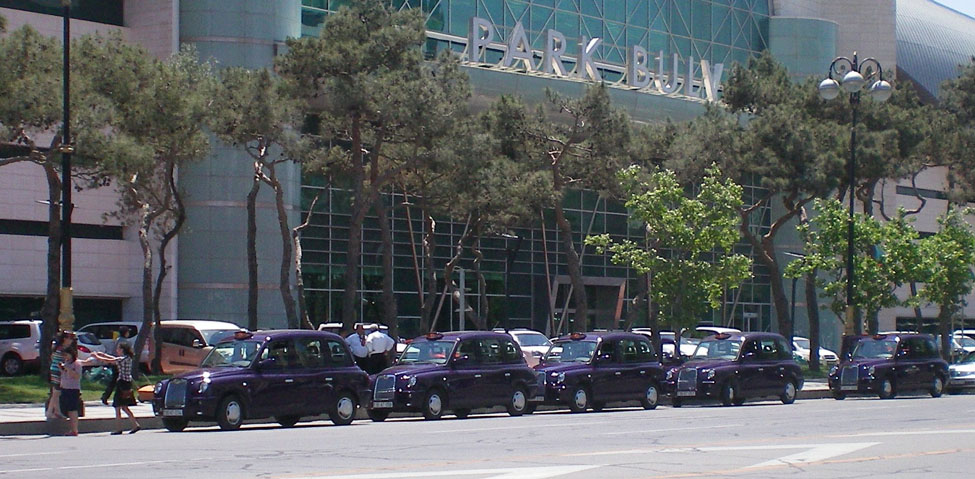 London Taxis in central BakuThis has increased the pressure for Manganese Bronze Holdings to deliver the next batch of 200 vehicles as soon as possible.

The first batch of vehicles were delivered in June and within days of their arrival the 100 drivers already recruited could be seen driving the up and down the main streets of Baku in their smart Baki Taksi Company uniforms transporting passengers to their desired location. The London Taxi was turning heads of customers and everyone wanting to travel by taxi wanted to travel in a London Taxi.

All London Taxis in Azerbaijan are purple in colour and the iconic and recognisable shape stands taller than all the other private hire cabs (so called 'bombila') on the road and can be spotted easily amongst the bustling traffic.

"A London Taxi's meter allows the passenger to see the fare compared with private cabs hidden costs which was an integral part of introducing transparent pricing for it's consumers," said Matthew Cheyne, Market Development Director for The London Taxi Company*.

"What has happened in Baku could take place anywhere in the world," continued Cheyne, "it's all part of our service to deliver not only the most recognisable taxi in the world but also the best service for passengers. Any city can have our professional, trained taxi service; just get in contact with us."

Currently, London Taxis have been distributed amongst 11 taxi stations around Baku and as the fleet grows so will the sight of London Taxis at more and more stations.

The further 900 London Taxis will be delivered throughout the remaining months of 2011 completing the first order for 1000 vehicles.