Gradus Treats The Christie Cancer Centre With Care
Christie Cancer Centre installs a full range of Gradus Contract Interior products to provide a safe and comfortable environment for patients and staff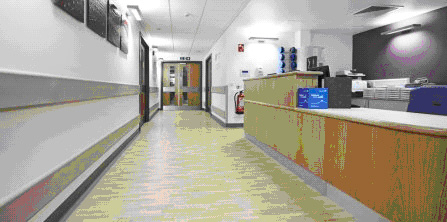 Brian Jones, Design Manager for Interserve which managed the centre's construction, commented: "We specified Gradus stair edgings, barrier matting and wall protection for the new treatment centre, due to Gradus' proven track record in successfully supplying products for healthcare facilities. Initial feedback shows that the Trust is very satisfied with the performance of the Gradus products."

Jill Harrington from Gradus, added: "The combination of XT stair edgings, Esplanade Plus barrier matting and InPro and Sanparrel wall protection provides The Christie's management team with peace of mind that the new centre is accessible, easy to maintain and a safe and comfortable environment for patients and staff."

Gradus' ADXT1 aluminium stair edgings with Xtra-Grip insert in Carbon (black) were installed on the centre's stairwells to minimise the risk of slips, trips and falls. Xtra-Grip insert has the added benefit of increased surface roughness to further reduce the risk of slip, particularly where the stair edging may become wet - ideal for use in environments such as hospitals, where health and safety is a priority.

In addition, Gradus' Esplanade Plus primary barrier matting with a Boulevard 6000 insert in Shadow (grey) was supplied for the treatment centre's main entrance, which experiences high traffic volumes on a daily basis. Suitable for high levels of foot and wheeled traffic, the high performance barrier matting improves safety by reducing the risk of slip accidents caused by tracked-in dirt and moisture. This also helps to reduce cleaning and maintenance costs, whilst protecting the appearance and prolonging the lifecycle of adjacent floorcoverings.

Boulevard secondary barrier carpet, supplied as a logo mat comprising of Boulevard 6000 in Shadow (grey) and Boulevard 5000HD in Jackdaw (black), has also been installed in the main entrance, coordinating with the Esplanade Plus primary barrier matting and providing a welcoming entrance for all visitors to the centre.

To help create a hygienic, safe and attractive environment for patients and staff, Gradus installed an InPro wall protection system comprising 700i wall guards, BL1300 bed protectors and standard corner guards to provide protection against damage caused by pedestrian and wheeled traffic, including trolleys and wheeled beds. Sanparrel PVC-u protective sheeting was also installed in one of the waste rooms at the centre to provide a durable layer that is easy to clean and protects against surface scuffs and scratches that can harbour germs and bacteria.

Gradus' XT stair edgings comprise aluminium channels and slip resistant inserts that extend around the leading edge of the stair edging, maximising underfoot safety by ensuring optimum foot contact with the slip-resistant element. The XT range of stair edgings is available with a choice of four insert types and twenty two colour options, designed to offer visual contrast with surrounding floorcoverings and includes profiles suitable for use on square, rake back or bull nose step shapes.

Esplanade Plus primary barrier matting is suitable for interior and exterior applications and is available in either open or closed construction in a choice of colours and thicknesses, offering solutions for a variety of different heavy traffic environments.

The Gradus InPro wall protection system provides a complete interior protection package for walls, corners and doors, and consists of modular PVC-u and aluminium handrails, wall guards, corner guards, bed protectors and PVC-u sheeting.

Gradus is a major supplier to the healthcare, education, leisure, cinema, hotel and retail markets of contract interior products such as Stair Edgings, Floor Trims and Flooring Accessories, Carpets, Wall Protection, Barrier Matting systems and Step and Aisle Lighting.