Protecting Womens Health In Long-Term Partnership
OCS Group CEO Chris Cracknell and Conrad Mielcuszny, CEO of Genesis Biosciences, have signed a long-term agreement continuing the exclusive use of the ground breaking germicide Activap™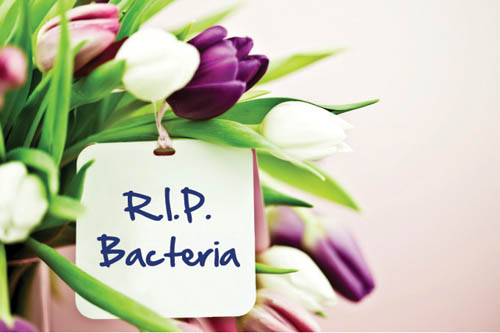 Activap™ is the world's most advanced, proven effective in-use germicide for feminine hygiene waste disposal. Results obtained in independent tests show that Activap™ exceeds the claimed germicidal performance of competitors' products, eradicating at least 99.999% of potentially harmful bacteria as well as being effective against viruses including HIV, Hepatitis B and C.

Speaking on behalf of OCS, Chris Cracknell stated: "I am delighted that we are continuing our exclusive agreement to provide this product which is uniquely protecting women's health across the globe. Choosing Activap™ is a real demonstration by employers that they are committed to reducing risk to their employees and customers."

The Biocidal Products Directive was created to regulate the sale and use of biocidal products in Europe in order to protect the public, to ensure products are safe and do not harm the environment and to prove that products actually work. Activap™ is the only product on target to gain accreditation under the European Biocidal Products Directive as it attains a '5 Log Drop'. This is a 99.999% reduction in potentially lethal bacteria in actual use conditions. This level of performance is required for a product to consistently reduce bacteria to below the infectious dose. A 99.999% reduction is also the level of performance required to pass the international disinfectant standard BS EN 1276: 1997 which Activap™ has done.

Rival products only claim, at best, to be 99.99% effective and then only in simple liquid tests in test tubes, not in units or in waste. Products which fail to achieve a 5 Log Drop may expose the user to potentially infectious levels of bacteria, for example, skin organisms such as Staph. aureus - the species that includes MRSA - and gut organisms such as E. coli.

Conrad Mielcuszny commented: "Cannon Hygiene shares our commitment and vision to provide its customers with the best quality feminine hygiene service in the industry. Activap's™ unique patented vapour action works throughout the interior space of a feminine hygiene unit and has been rigorously tested to ensure unrivalled protection from the hazards associated with the storage of feminine hygiene waste."

The tough European accreditation process to which Activap™ is being subjected is based on real-time usage and actual conditions. Competitor products are simply either deodorisers or contact-only germicides which do not have the capability of killing germs throughout the space in a unit.

For added continued safety assurance, Cannon operates ongoing quality control testing with Genesis Biosciences to ensure that new batches of Activap™ meet the highest standards.

Documented tests carried out under realistic sanitary unit conditions have shown that Activap™ ensures the ultimate protection in feminine hygiene disposal for more than 4 weeks with no negative environmental impacts. As well as helping to protect women's health, Activap™ uses entirely natural active ingredients and poses no threat to the environment as it degrades naturally if confined to landfill.