Ronfell Group Launches New Website For Fire Resistant Silicone Rubber Products
The website benefits from more than 30 year's experience and unrivalled technical expertise and resources from our Production Engineers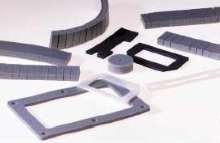 For many years Ronfell have been at the forefront of market development of a comprehensive range of silicone rubber products especially Fire Resistant / Flame Retardant Silicone which are now used in many diverse applications from the automotive and aeronautics industries to military and food processing.

The demand for high specification silicone elastomers to withstand the rigours and extreme temperatures created in everyday industrial processes are enormous. Ronfell supply profiles, sections, sheeting, cable, seals, gaskets and other components to specific customer requirements.

Ronfell are an ISO 9001 certified supplier of custom silicone components and parts for industry which includes specialization in the areas of silicone extrusion, molding, sheeting and closed cell sponge/foam. In addition, Ronfell are an approved contractor to the UK Ministry of Defence Cage Code U9881 in providing innovative quality seals and lighting assemblies. We are an approved supplier to London Underground under Section12 specification for flame resistant hoods and canopies.

We welcome all clients from around the world to benefit from our expertise.