All-New Lock Type From Camlock Systems Combines Strength And Enhanced Protection
Camlock Systems Ltd has launched a new generation of locking device known as the Series 35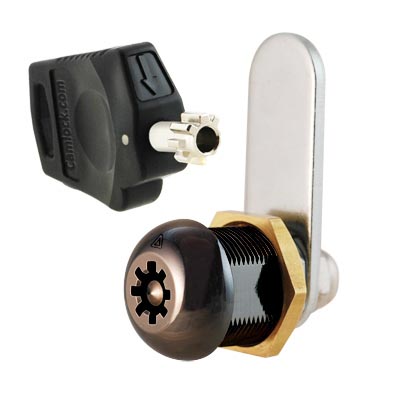 Developed over two years, the all-new isotoxal mechanism features a revolutionary and unique asymmetrical warded keyway that prevents the entry and/or operation of an incorrect key. Seven stainless steel locking elements fasten the central core to the outer body and it has a hardened steel anti-drill centre post. Further protection from drilling is provided by a second hardened roller inside the lock, which spins freely when a drill bit comes into contact with it.

The new mechanism and construction stands up to the ever-increasing threats from criminals. These range from opportunistic crimes using brute force to carefully planned attacks by organised gangs employing more insidious methods such as picking, bumping or unauthorised key duplication.

Initially, the new range comprises three body lengths of camlock in the conventional 19mm x 16mm 'double D' profile and a 'Bullet' type locking insert.

The Series 35 provides a simple retrofit upgrade for most popular styles of specialist locks or can be designed into new equipment where high security and peace of mind is paramount.

Over 750,000 different key combinations are available, allowing an exclusive key combination to be allocated to the user or purchaser. This combination can be registered online with Camlock Systems, to ensure that only authorised personnel can obtain extra keys.

The Series 35 can be supplied 'keyed to differ', where each lock in a set is operated by its own individual key, or 'keyed alike', which offers the convenience of any key within a set or suite operating any or all of the locks. A wide range of cams is available, allowing the lock to be used on many applications.

Patents have been applied for internationally to protect the lock's integrity and its cutting edge design.