Alloy Wheel Refurbishment Success For The Guyson Wheelmaster
Guyson International has seen numerous sales successes with its newly launched Guyson Wheelmaster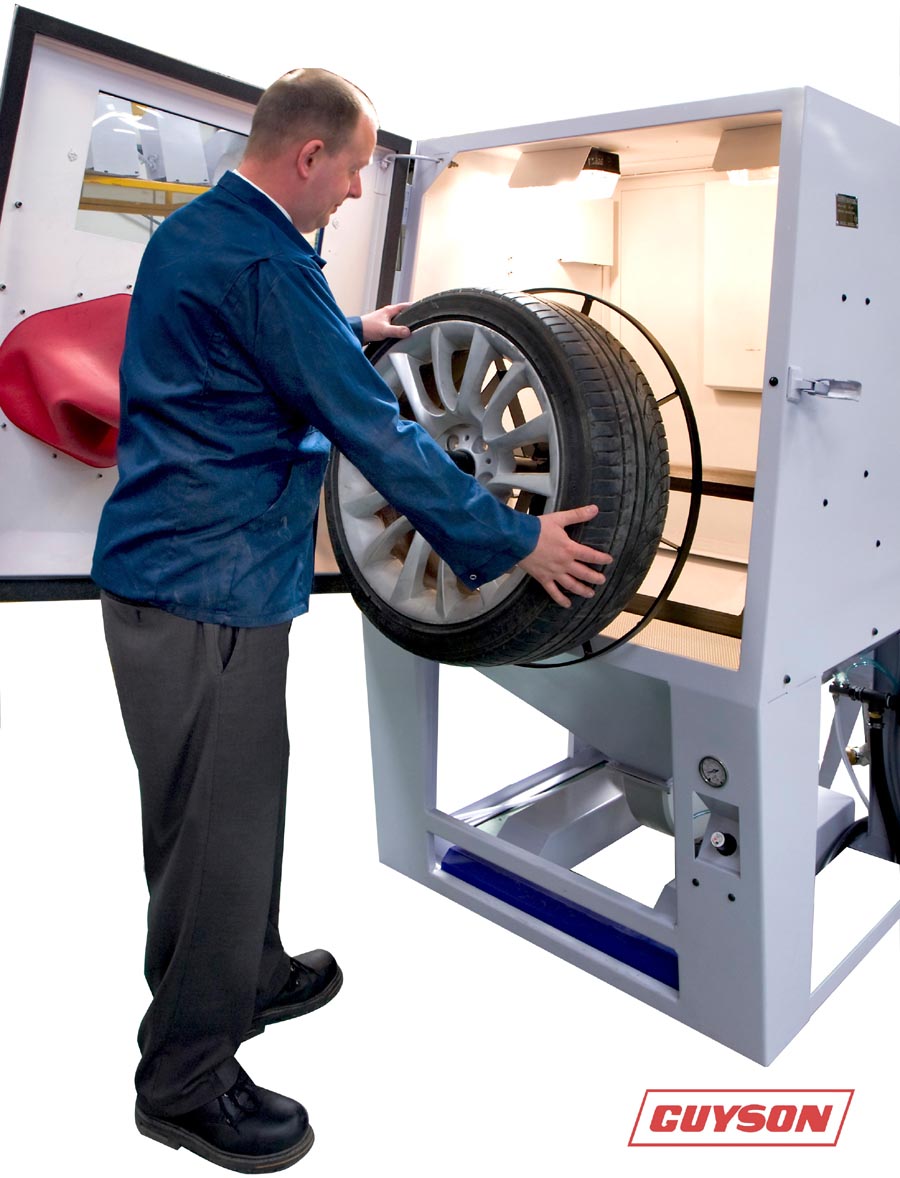 Both mobile van operators and static alloy wheel repair shops are happy with the new system. This new blast system has been specifically designed for blast etching of alloy wheels and incorporates many application specific handling features that enable the operator to operate this wheel blasting system safely, without heavy lifting.

Many encouraging words have been spoken about its improved ergonomic design by all who have attended demonstrations or used it and several large garage franchisers and mobile alloy wheel refurbishment van operators are in the process of evaluating its full potential with Guyson demonstration units out in the field.

One recent successful multiple unit installation has been to Evans Halshaw, a leading volume motor car retailer with numerous sales and service franchises, who took a number of units for both its mobile vans and its garage workshops. David Crowder - Dealer Principal at their Leeds Bodycentre stated that "the Wheelmaster cabinets were performing great, much easier on lifting the wheels about, which makes it easier for the lads and proving a valuable timesaver and in this business time is money".

The new Guyson Wheelmaster is the ideal machine for mobile alloy wheel repair vans or as a brand new installation into 'smart' repair centres or auto body shops looking to offer a value added customer service by bringing the process back in house from subcontractors or indeed as a replacement for old, poorly performing blast units.

The Wheelmaster is fitted with a fully opening front door to allow maximum easy access for loading. Inside the specially designed wheel support cradle tilts and pulls out of the cabinet to allow the wheel to be mounted in a vertical position, removing any likelihood of over-reaching whilst loading wheels. The wheel is located on a central spindle and supported by a cross braced circular support.

The blast cabinet is fitted with extra large armholes to allow maximum operator access whilst blasting and the wheel is rotated by hand so it can be blast etched just as easily by left or right handed operators. A full width foot pedal allows comfortable and responsive action to engage the blast gun and maintain blasting - which ceases the moment that foot pressure is released.

The heavy duty, all steel blast cabinet affords excellent visibility of the wheel and the area being etched, with bright internal lighting delivering even illumination without shadows. Optimum visibility is maintained inside the cabinet by a highly efficient dust collector constantly removing media dust and fine particles.

The blasting process produces an even finish with easy sweeps across the wheel surface and, unlike traditional disc sanders; it allows both easy penetration of the blast media stream between the spokes and also very precise localised etching if required. It also provides a fast and even light etching to remove only the chipped lacquer on virtually new wheels, whilst being capable of etching right back to bare metal if required.

An optional cyclone separator can improve separation of dust from good blast media prior to media being recycled. This means that the consistency of the finish is improved and the cycle times are maintained, as only better quality blast media is recycled. There is also normally an improvement in visibility. Cyclones are available in several options: stand alone, cabinet mounted or as an integral part of an optional pressure fed blast system.

An optional pressure feed blast system is available for intensive blasting or when regularly needing to strip wheels back to bare metal. The pressure feed system offers cycle times that can be up to four times faster than a suction feed system for tougher blasting applications.

Prospective users of Guyson blast systems are encouraged to submit sample components for free feasibility testing to the company's extensive development workshop located in Skipton, England.