Premier Hazard Supplies Lightbars, Vehicle Lighting, Sound And Control Systems, Cameras And Speed Enforcement Equipment To Royal Thai Police
Premier Hazard is a UK based manufacturing company within the Public Safety Equipment Group and has been established for over 25 years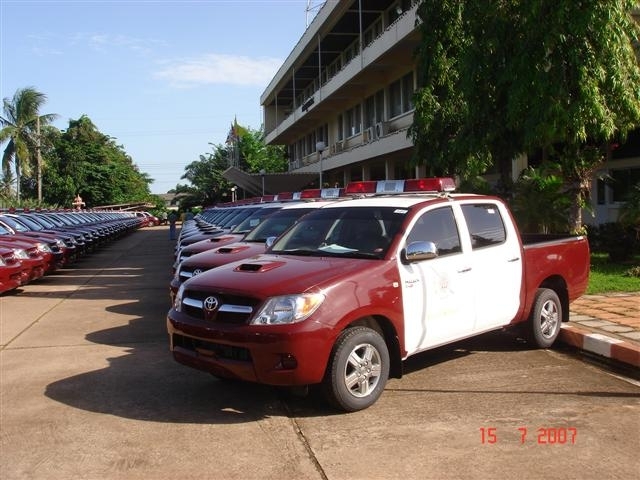 With products supplied to police and other law enforcement services in Europe, Africa, Middle East, Far East and Australasia it is an international leader - key police customers include Australian, Hong Kong, Moscow, Royal Thai, Croatian, Egyptian, Greek, French Gendarmerie, other European countries plus, of course, the majority of UK police forces.

A key company within the PSE Group is Kustom Signal, which has been providing camera speed enforcement and safety equipment needs of law enforcement since 1965. Kustom employs over 200 skilled personnel and designs, manufactures and markets traffic speed radar, laser speed equipment, in-car video systems and mobile roadside speed monitoring trailers. Manufacturing operations take place in more than 54,000 square feet of facilities. Capabilities include engineering, metal fabrication, printed circuit board assembly utilizing automatic insertion and automated test, final assembly, environmental burn-in and quality assurance.

Kustom offers the opportunity to source a complete camera and speed enforcement equipment range. Within the UK products such as the Falcon and ProLaser hand-held speed enforcement systems have been successfully used by almost every police force for many years, along with police forces in over 60 other countries.
The accuracy and ease of use of this equipment has been well founded throughout all parts of the world.

Within the USA, Canada and South American countries PSE products are developed for, and distributed to the police and Emergency service providers via its sister company Code3. Supplying to users in all regions it has built up an enviable customer base that has grown to expect high quality products matched with technological expertise and a fast response to market needs. With demanding needs within highway patrols, pursuit vehicles and other similar challenging roles, these products have been found to offer excellent reliability and durability within all climates and applications.