World-Class London Overground Trains Built With Street Crane Technology
Canadian based train builders, Bombardier, operate throughout the world. To meet challenging demands at their Derby factory, the company turned to the UK's largest industrial crane maker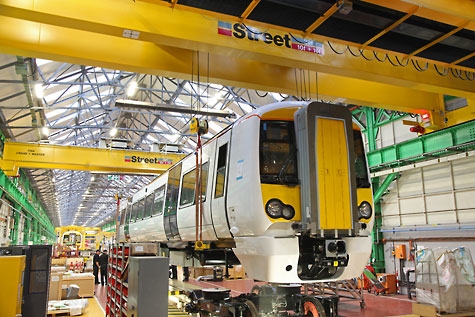 Overhead cranes from Street were selected for the final assembly of new Electrostar trains for Transport for London.

"Bombardier's specification required advanced cranes to ensure safe, continuous and flexible working in an intensive round-the-clock production environment," explained Street Crane sales director Gus Zona. Two identical cranes of 20 tonne safe working load have been installed, each with twin ZX series ten-tonne hoists. For maximum flexibility the cranes can be used independently during the assembly of the carriages, but are designed for tandem operation when lifting and moving complete vehicle bodies.

All travel motions are under inverter control to ensure safe acceleration and deceleration. This ensures load stability and provides precision low speed final placement. Long travel motion, down the 180 metre workshop, can achieve speeds of 40 metres/min, with cross travel speeds of 20 metres/min and vertical movement at up to four metres/min.

Audible alarms warn of crane advance as they move up the workshop. Anti-collision devices provide an additional safeguard when the two cranes are operated independently.

For tandem crane lifts and transportation a unified radio-based control system is used. This ensures the complete synchronisation of all movements, for maximum safety and load protection.

Many of the Bombardier Electrostar trains have already been delivered and will service the London Overground to the north and east of the capital. Bombardier's Derby factory is working a three shift system to complete the order.