Interact With Intersurgical At The Virtual MEDICA Trade Fair 2020
We are delighted to have an online profile at the MEDICA 2020 Virtual Congress from 16-19 November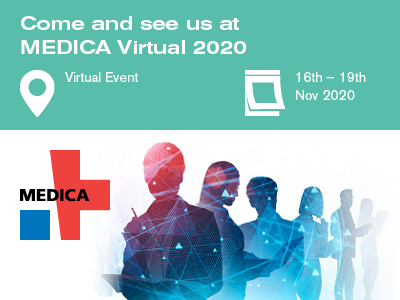 Our online profile will allow you to review our products and make enquiries directly to our teams. Our focus this year is on our range of Infection Control products, including the i-view™ video laryngoscope, StarMed respiratory hood, high-efficiency breathing filters, and more.

The annual MEDICA Exhibition and event has moved to a fully online version this year, creating a dedicated event website that will host a conference area, exhibitors space and a 'network plaza' - a place for visitors and exhibitors to arrange meetings and create working partnerships.

We are sorry we won't be meeting in person this year but hope you enjoy the virtual event and we very much look forward to hearing from you. We look forward to seeing you again in Germany next year! If you haven't already registered, you can do so here: http://www.medica-tradefair.com


You can follow all of our updates on Twitter through @MEDICATradeFair and @Intersurgical, using the hashtags #VirtualMedica and #Medcom2020.

Find out full details on our dedicated Infection Control website: www.intersurgical.com/info/InfectionControl

We look forward to showing you our patient solutions on our virtual stand from 16th-19th November.