Addfield Environmental Launches Highly Flexible Poultry Incineration Solution
A new high throughput agricultural incinerator launches allowing farmers to maintain their biosecurity whilst reducing their overall costs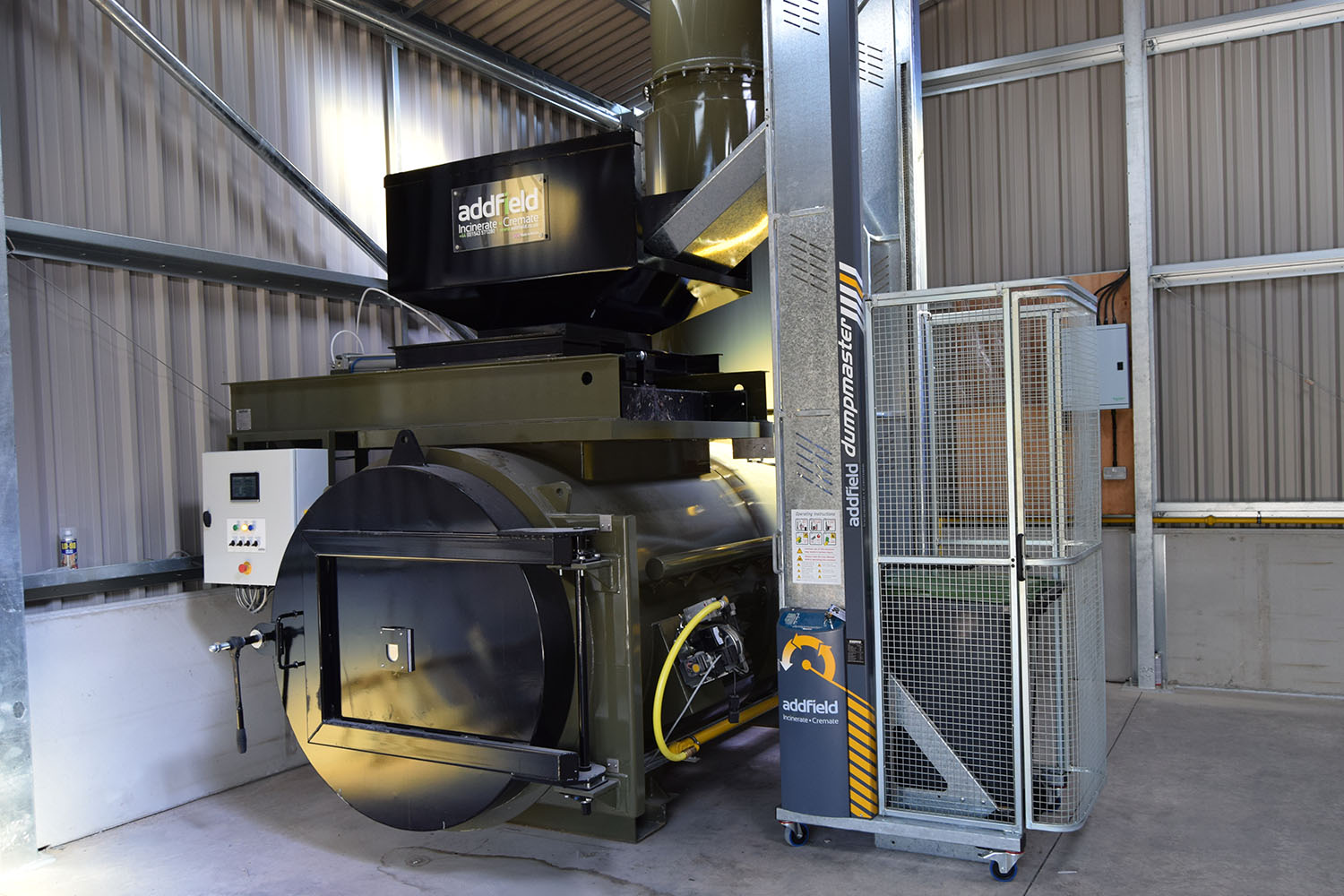 Poultry Incineration Solution From AddfieldStaffordshire agricultural incinerator manufacturer Addfield Environmental Systems introduces a highly flexible solution for large broiler houses and poultry farms with the release and installation of the first A50L in the UK.

The A50L has already proven essential across the Middle East and as such it was decided to introduce this machine closer to home following increasing demand from poultry farmers for a compact machine that can deliver very large results.

As the first UK installation recently completed for successful poultry producer Leedsway Farms who chose to invest in the ongoing safety and biosecurity of its growing poultry farm in Staffordshire.

The A50L has taken agricultural incineration to new levels through being able to achieve almost continuous loading and operation. Capable of managing in excess of 1 tonne a day or as little as 100kg equally economically which is not traditionally possible for larger machines. This gives farmers far greater control of their fallen stock than traditional solutions and increased operational savings.

As the demand for chicken products continues to grow across the UK. There has been an inevitable increase in the sizes of broiler houses and poultry farms. As exciting as this growth is, it brings with it several new problems. One of the most pressing is disposing of the increase in waste created from unavoidable mortality and fallen stock. An essential activity to maintain the site biosecurity and protect the overall flock.

Having worked side by side with farmers since 1982 in the development of reliable solutions to their waste Addfield discovered the gap in the market between traditional agricultural incinerators, which can be easily installed on farmland and high capacity installations that require unrealistic investments for the average famer. Developing a solution that bridges the gap between the two has resulted in this highly innovative solution.

Addfield have now formally released the A50L Agricultural Incinerator in the UK, which Leedsway Farms were the first in the UK to receive. Through enabling the waste to be loaded almost continuously via an automated hopper and bin tipper system one of several options available for this machine allows several times the throughout during a days operation compared to alternate similar sized options.

"It has been a very pleasant result taking off as it has in the UK. We work with farms of all sizes from micro small holdings through to some of the largest pig and poultry producers in the world. For which the A50L was initially developed for customers in the middle east. It happened to be a genuine coincidence that we had this machine in development at a time when we started seeing enquiries from larger poultry farms based in the UK looking for a bigger machine with a greater capability, which this machine was perfect for. We are over the moon that it has been received so well closer to our home in the UK." James Grant Business Development Director Addfield.

Primarily designed for the poultry markets the A50L is not exclusive to birds as it is also perfectly suited to pig and sheep farmers as well due to its large loading chamber and enhanced capacity.

Addfield have always prided themselves on listening to their customer and adapting solutions to fit and this is another example of making sure that the machines that they produce are the right ones for the job.