Looking to do Business in the Worlds Largest HealthTech Market
Applications closing soon for ABHI US Accelerator 2021 cohort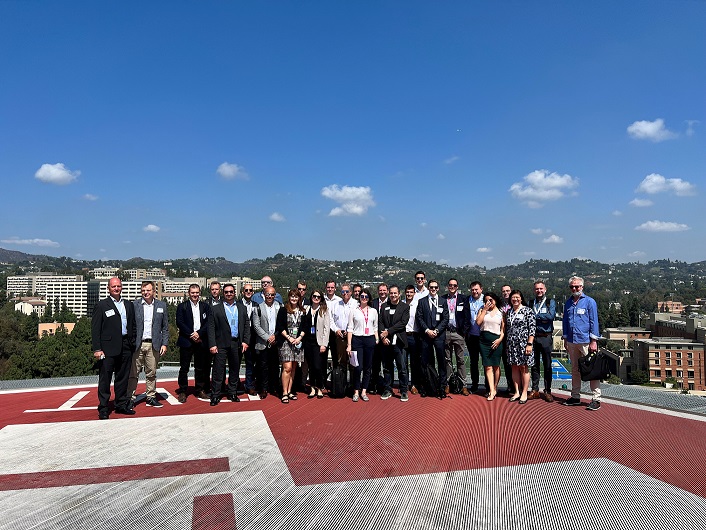 UK HealthTech companies looking to strengthen and grow their US activities are encouraged to apply now for the Association of British HealthTech Industries (ABHI) US Accelerator 2021 cohort. The final closing date for applications is Wednesday 30th September 2020.

Designed specifically to enable medical device, diagnostic and digital health companies flourish, the 12-month programme of support provides companies with the opportunity to define and strengthen their US strategy, de-risk market entry and grow their US business by utilising ABHI's advice, expertise and connections within the US.

The programme also facilitates introductions to hospital, clinical champions and supply chain leaders, enabling companies to liaise directly with decision-makers to discuss their products and services. In addition, participating companies enjoy full use of ABHI's dedicated workspace and office at the Dell Medical in Austin, with access to their facilities and support from senior faculty.

The 2021 cohort will run the calendar year; January 2021 – December 2021.
Paul Benton, Managing Director, International, said: "The ABHI US Accelerator is the ideal platform for companies looking to upscale their US business. The programme helps to de-risk companies' US market entry and acts as a catalyst for growth for more developed companies. It offers unrivalled access to senior physicians, c-suite level health system executives, and a whole host of US healthcare contacts.

"The US is home to a number of pioneering institutions, and opportunities for innovative UK businesses are vast. With only a couple of places left we recommend companies do not delay if they would like to be part of this growing initiative."

Per capita, the US is the highest spender on healthcare in the world by nearly 30%. Understanding the healthcare market, navigating regulatory requirements, identifying customers and building relationships with key opinion leaders and partners are essential elements of being successful in the US.

With strong relationships across hospital systems and life science communities nationwide, built over many years, ABHI is uniquely placed to act as an interlocutor for UK companies looking to access the largest HealthTech market in the world.

ABHI US Accelerator member Andy Mears, CEO, of Deltex Medical Group added: "The ABHI US Accelerator programme has been an excellent vehicle for our company, both in terms of high-level introductions across key clinical areas and access to the in-market knowledge of ABHI's US network. Many of these connections we could not have made without ABHI's support and I would strongly recommend that any company looking to drive their US growth strategy to engage with ABHI's offer."

Since its establishment in 2017, the ABHI US Accelerator has led to over 25 international research collaborations and new business generated for UK industry. The programme has been expanded over the years to support 30 companies drive their operations in the US.

After a high volume of interest in the ABHI US Accelerator 2021 cohort, final applications will be closing on the 30th September. To apply, or for an informal discussion on the opportunity, contact Lottie.mcmahon@abhi.org.uk
About ABHI

ABHI is the UK's leading industry association for health technology HealthTech).

ABHI supports the HealthTech community to save and enhance lives. Members, including both multinationals and small and medium sized enterprises (SMEs), supply products from syringes and wound dressings to surgical robots and digitally enhanced technologies. We represent the industry to stakeholders, such as the government, NHS and regulators. HealthTech plays a key role in supporting delivery of healthcare and is a significant contributor to the UK's economic growth. HealthTech is now the largest employer in the broader Life Sciences sector, employing 131,800 people in 4,060 companies, with a combined turnover of £25.6bn. The industry has enjoyed growth of around 5% in recent years. ABHI's 300 members account for approximately 80% of the sector by value.

About the ABHI Innovation Hub

Positioned within one of city's largest and most anticipated development projects, the Austin Health District, the Hub is located on the Dell Medical School campus. With a focus on delivering population health and value-based care, Austin's economy is technology-led, and the Dell Medical School are focussed on delivering outcomes through this methodology.